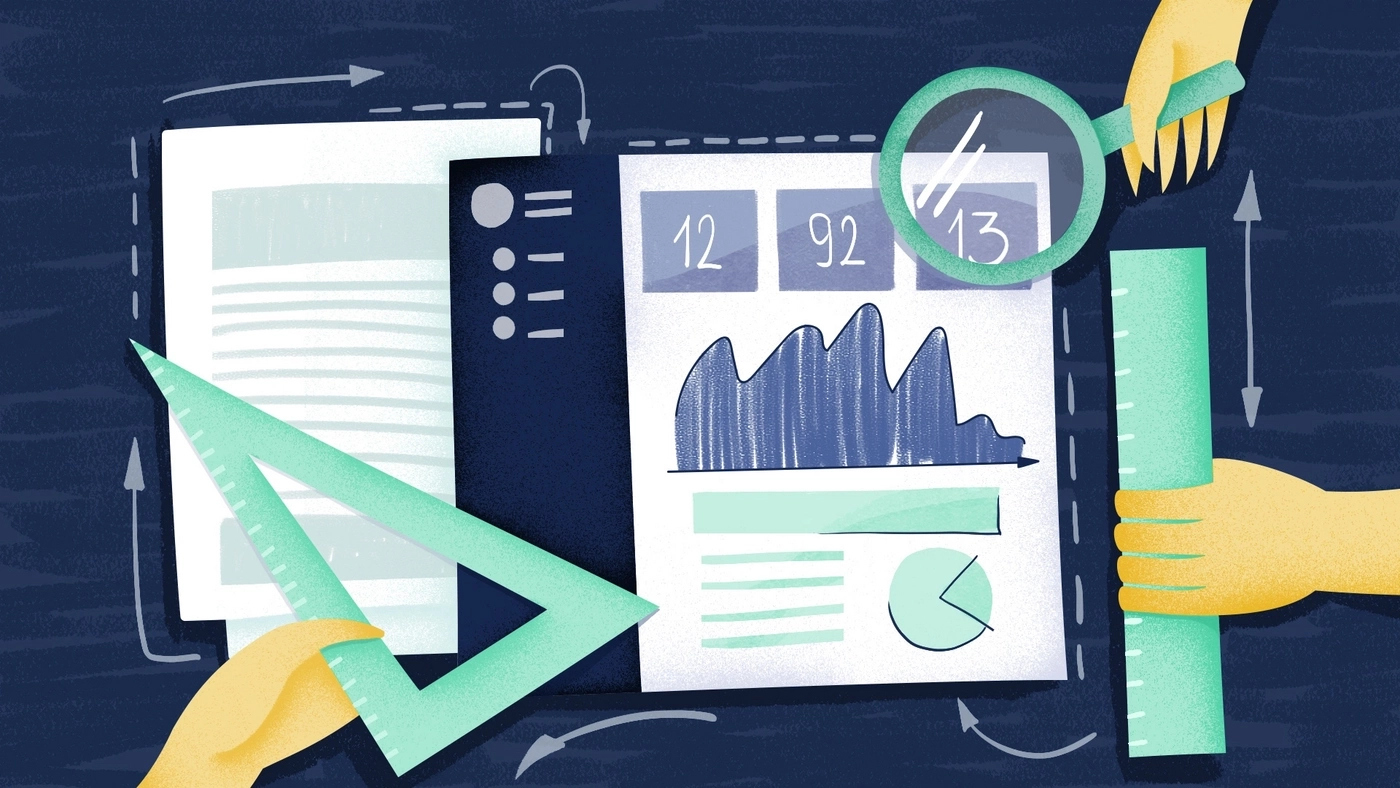 We have already discussed the utilization of branded content (or native advertising) by publishers. It's time to move on to the next topic: measuring the effectiveness of monetization on digital media resources, and how to observe and quantify how audiences/viewers react to branded content.
Would you like to know how effective your monetization channels are? Are you aware of what type of content works best? For truly successful marketing, the answer to these questions has to be a 'yes'.
IO Solution for Branded Content Monitoring
IO offers a Branded Content Dashboard which contains the data for multiple campaigns and displays them side by side. It allows the publisher to analyze and compare the performance of each campaign together on one screen and easily identify which are working well and which are not, giving branded content providers the opportunity to improve the quality of their articles and increase conversions.
What is the main benefit of our report? With the IO solution, almost any team member can be a data expert for their customers. Everyone can keep partners regularly informed of their article's performance and give immediate updates without delays brought on by the need to retrieve and interpret the data manually. This approach helps boost ROI and increase customer retention rate. And advertisers can obtain data whenever they need, when any team member is able to provide them with any essential information they're requesting.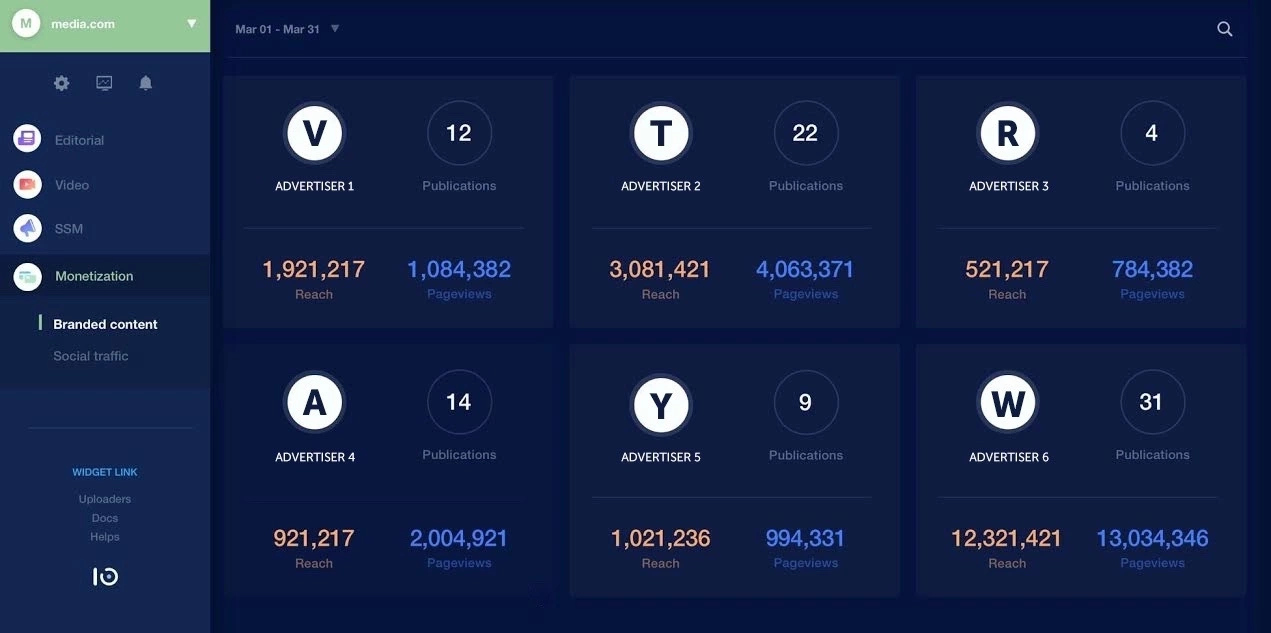 Advantages of the IO Branded Content solution
The ease of use and intuitive all-in-one interface allows launching more campaigns and increasing revenue, because:
Our research team discovered that media business employees spend on average 80 working days per year on manual data collection. So, with a solution to this in mind, we've created a fully automated dashboard, completely eliminating the need for users to spend any time on this routine work. Our reports automatically gather the data on each specific campaign, consolidate and sort it using AI, and display comprehensive overviews on client mandates/expectations and campaign results to both the publishers and their customers, side by side on one screen.
Commercial teams receive only focused and relevant data which is useful for them and their customers, on each campaign article. Focused data helps users analyze and identify the strong points of their campaigns and gain fresh insights for further successful business development.
Our solution allows you to easily share information with your customers and update them on your campaigns' effectiveness. Seeing a clear picture on campaign activities, results and successes builds additional trust between you and your customers.
This report allows both publishers and advertisers to utilize data comprehensively in the following ways:
Partner's ROI analysis = Evaluating overall performance of each campaign that is launched or initialized.
Article's ROI analysis = Receiving detailed information on profit and expenses for each article.
Author's ROI analysis = Identifying most effective techniques and practices to invest in for increased revenue growth.
Explore Branded Content Details
The IO Dashboard allows drilling down into each campaign and obtaining all the results on one screen. Here is what you see in the detailed reports:
Inside the drill, all vital information about campaign performance and detailed accounts about each campaign's article. This generally involves/includes publications, pageviews, average time, reach, paid reach, actions, and so on; however, the list can be customized for specific needs, depending on advertisers' aims.
The IO solution is a single platform for collecting and storing data you can trust, selected by you and gathered from sources of your choice.
Why Our Clients Utilize Detailed Report:
It allows publishers' commercial teams to instantly supply partners with all relevant data at any moment, as it is delivered almost in real-time. Native ads providers can monitor the performance of their articles and make any necessary changes immediately.
Publishers can share any campaign's information with the individual customer on demand and without delays. A full update for the customer is only one click away. Branded content providers, on their side, can request specific data and get it in a short space of time.
Both sides will be happy with a new approach because all the lags in the processes will be canceled with automation.
Data delivery by IO can be fully customized, so you can receive and share daily/weekly/monthly results of every campaign to any channel of your choice. Our experience has taught us that the data utilization rate is higher when the information is delivered in time and by a suitable channel. With this in mind, we have designed IO automated reports on branded content keep everyone on track and can be delivered to a channel of choice. Timely delivered data provides you with fresh insights which you can use for quick evaluating necessary metrics without digging in data, saving time for pipeline management and finally, luring customers with human centric approach, as your answers will be fast and extensive.
Visualized Example for Connecting the Dots
They say that it's better to see something once than to hear about it a thousand times. Check out this example of one of our customer's personalized IO reports: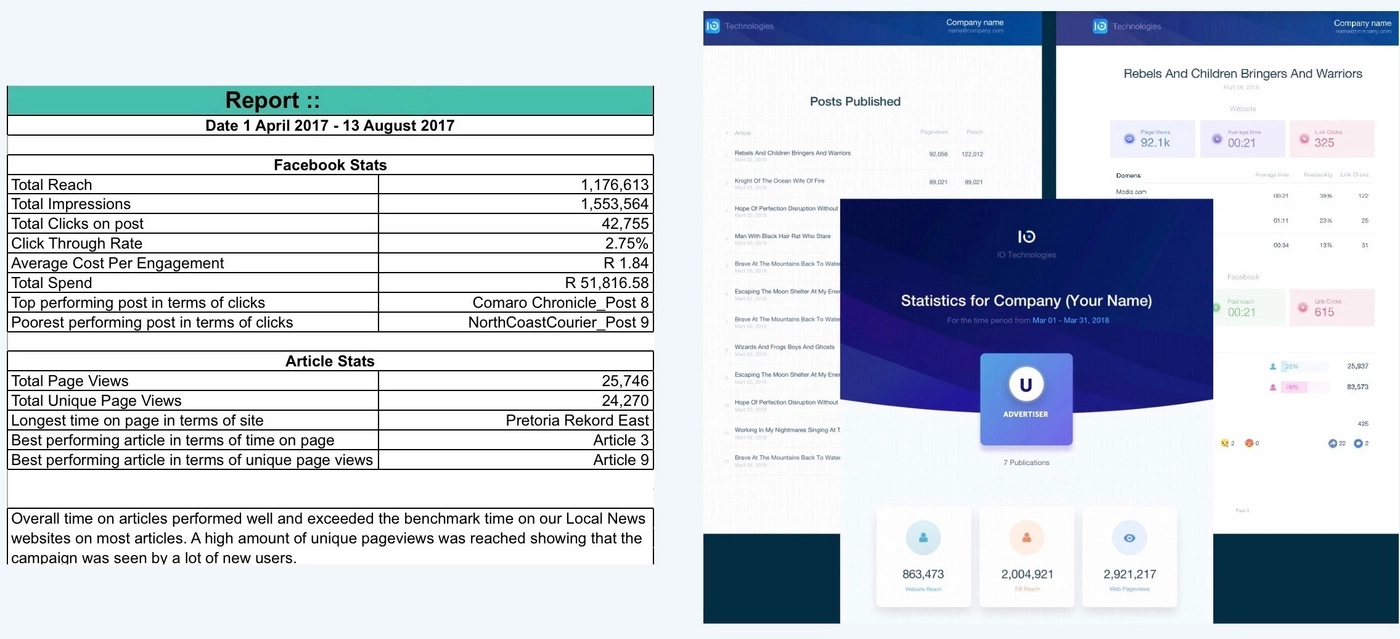 Do you still have more questions or want to customize your Branded Content report? Contact us right away and get a working solution asap!