Embrace the future of publishing
IO's new editorial analytics system available for a free trial
It's not enough to simply put content out there and hope for the best. Content creation is a fine art which requires a detailed plan based on the analysis of the targeted reader, and a specified desired outcome.
How well do you know your audience? How much do you want to understand their preferences?
The brand new platform created by IO Technologies allows communications and publishing companies to monitor, for example:
How appealing your content is to first-time readers
Loyal audience engagement from both a real-time and historical perspective
What engages your subscribers
Cross-platform and cross-device content performance
And hundreds of other questions you ask yourself every day.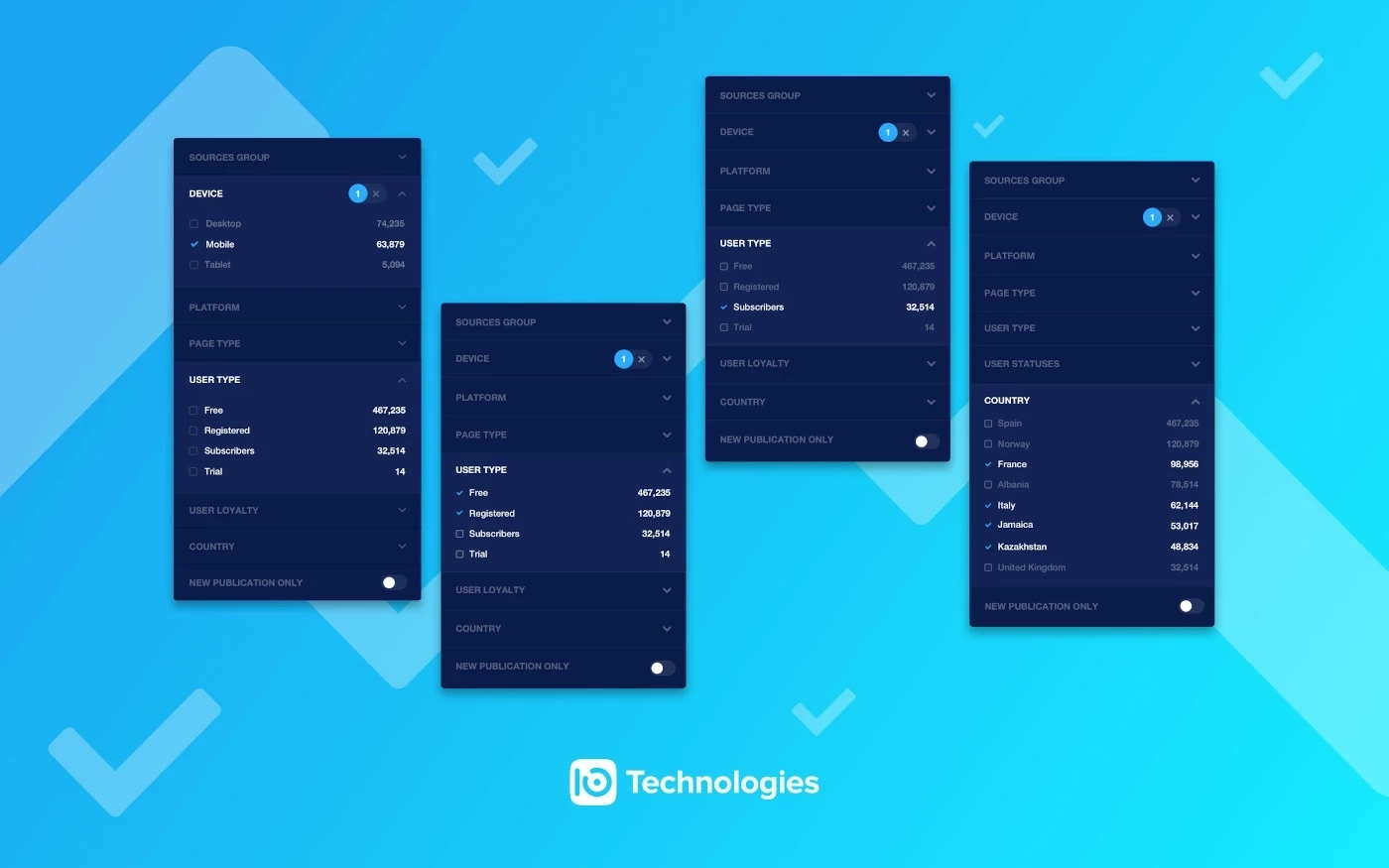 The right messages to the right reader at the right time
Talking to more than 1 200 content-creating teams across the world made us realize that the above-mentioned information is still not enough. Publishers want to know more. Actually, much more.
In order for our platform to allow publishers to hit the nail on the head with each article published, we have made sure that they not only have the most accurate and fresh data but that this is also enriched with all the necessary dimensions and variables.
Content filtering
Multi-layered filters for editorial control allow for specific, tailor-made content.
These user-selectable filters consider criteria such as user devices (how can you optimally engage with the gadgets, devices, computers and phones which your readers use?); distribution platforms (how does content perform on different online and social media platforms, like your app, Facebook and Twitter); user loyalty (allows for tailor-made strategies for: first-time visitors, returning readers and loyal readers); user types (accommodate both registered and non-paying readers, to increase their likelihood of becoming subscribers); and unique users (reach your 'ideal reader' with ease with specific, strategic intervention).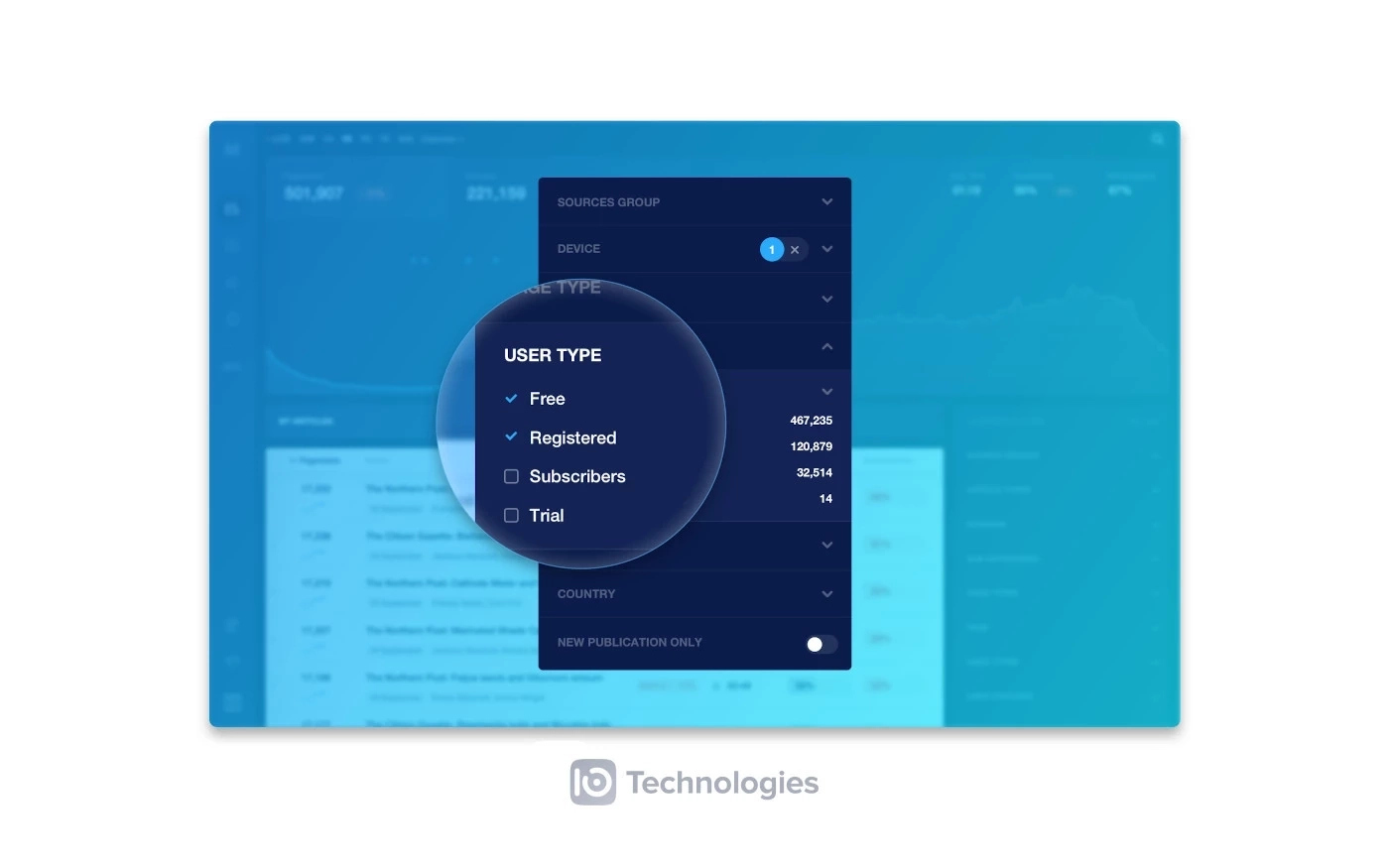 Content monitoring
Monitoring of specific site-related variables is possible based on page view numbers and unique visitor information. This monitoring can be done from both a real-time and historical perspective. Contributing writer monitoring is also possible, giving publishers a clear perspective of site writers and their impact on the team's overall effectiveness.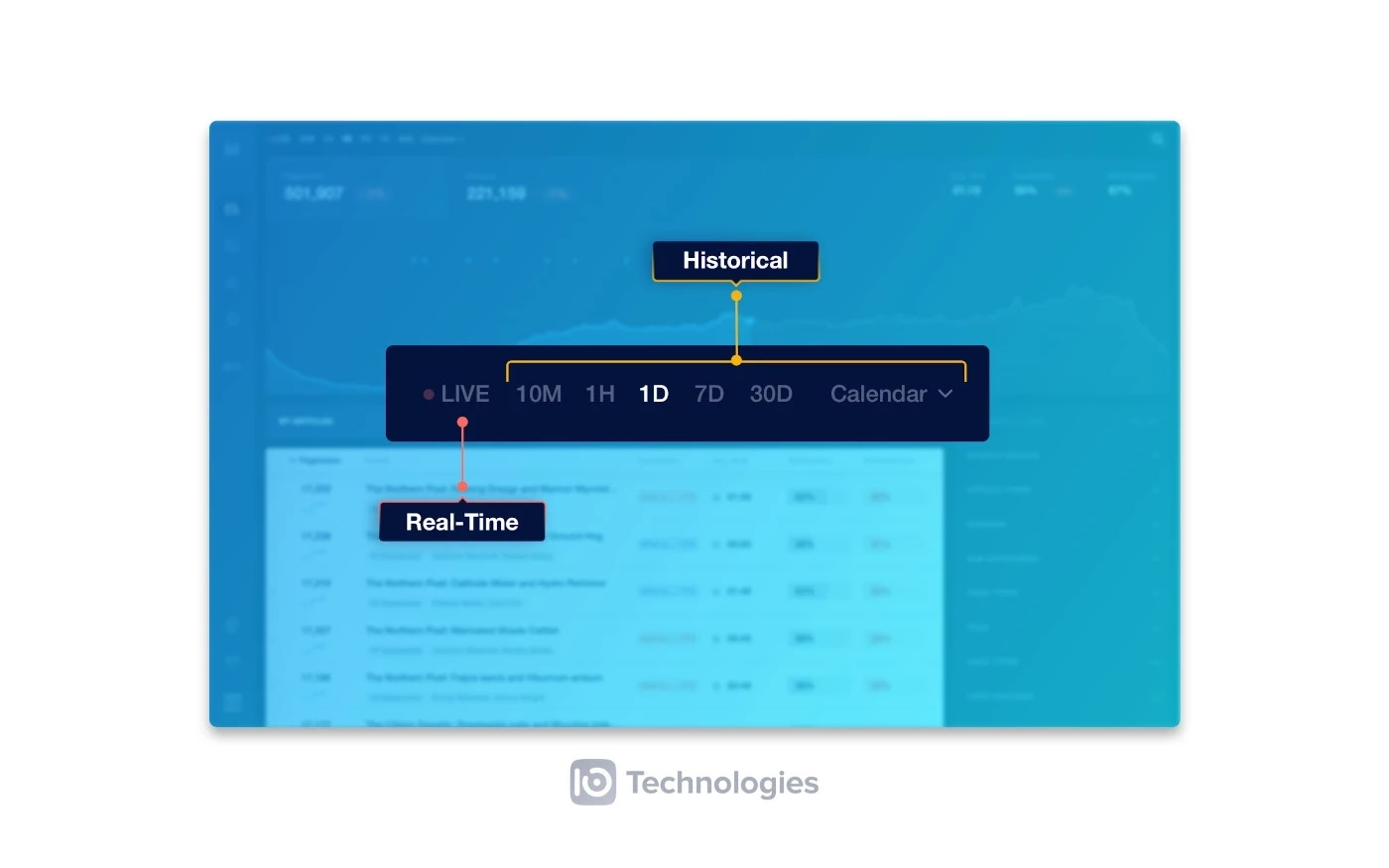 Reader demographics can also be harvested through applying geographical filters, together with filters specializing in other variables. Furthermore, publishers can monitor which sections are accessed, and the specific patterns of news readership. Reader information, such as frequency of access, is essential for publishing houses.
A vision for the future of publishing
In summary, futuristic publishing is all about vision. Considering this: IO offers a new system for editorial analysis which gives an all-encompassing view of the market, considering all factors: user type (paid, registered, visitors), user loyalty status (first-time or repeat visitors), publishing platform (such as Facebook or Google), reader country of origin and, reader mobile or internet device type.
We have the ultimate success tool for you today. Sounds interesting? Let`s talk!