News formats are vital for editorial teams. They are the determining factor of content visibility. They decide whether a reader will be engaged to your content or not.
Marketers, journalists, and editors strive to choose the most innovative, alluring and captivating formats to influence their readers or watchers.
Besides websites, apps, and traditional videos on YouTube, such type of content is spreading across all the social platforms: Twitter, Facebook, Instagram, Snapchat, and many others. Due to this fact, the IO team would like to share the latest video trends for publishers for 2018.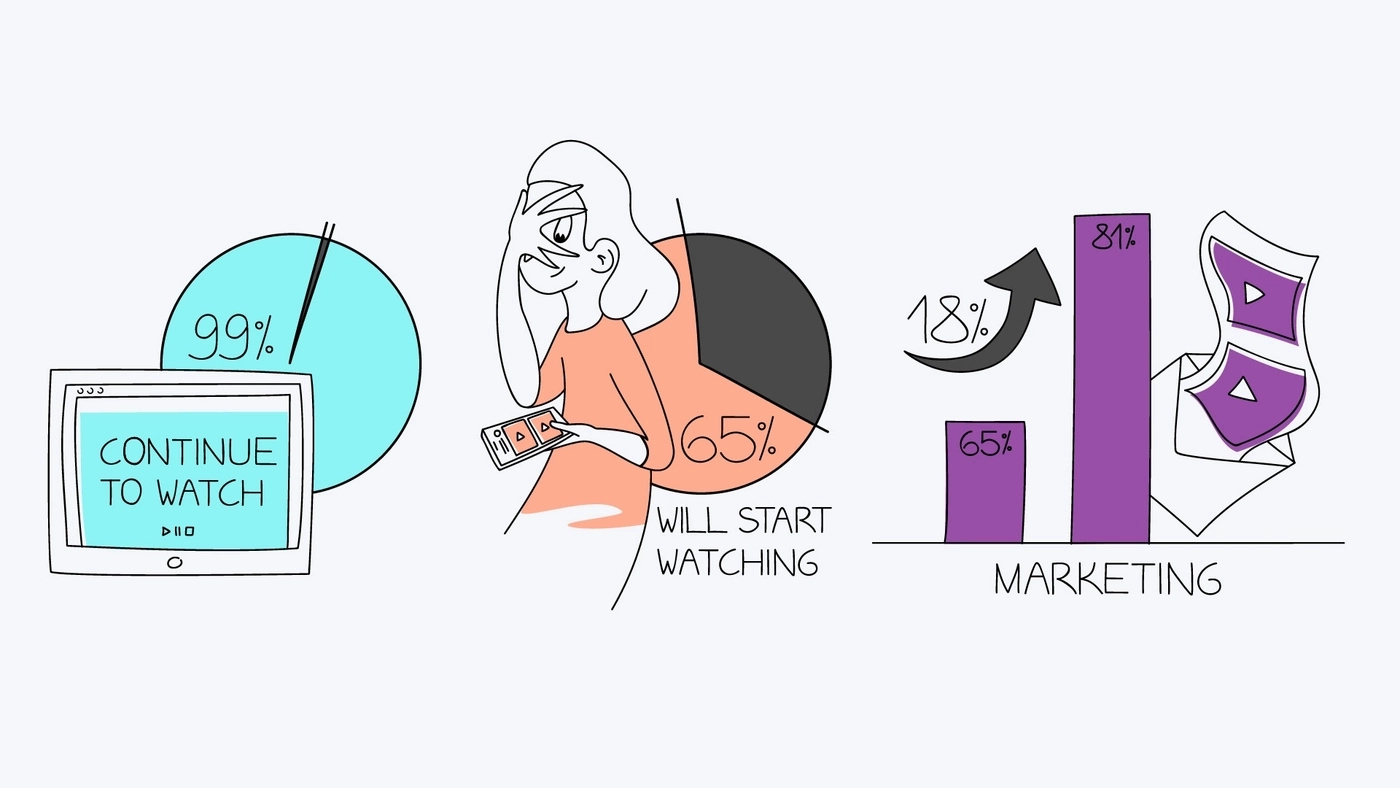 Trendy Statistics to Start With:
As Hubspot states, the usage of video as a marketing tool has grown by 18% since 2017 (from 63 to 81%).
They say, 99% of video watchers continue to do it in 2018, compared to the previous year.
65% of customers who weren't used to watching videos in 2017 confessed they are going to start watching them in 2018.
According to ComScore, video is not only about TV nowadays, it's about YouTube and the Internet. By the way, check out Alexa's statistics, YouTube has already taken the second place after Google.
SocialMediaToday research says that video on landing pages boosts conversions by up to 80%, and mentioning 'video' in the subject line of your email campaign increases open rates by 19%.
Hubspot has questioned their customers regarding utilizing video in their business in the year 2018, and here's what they've got:
97% of marketers used video for building brand and product awareness.
76% stated that video helped them increase both traffic and sales. 81% of watchers have bought a product/service, while 69% of potential clients have purchased an app/software after watching a video.
47% used videos to decrease support queries while 95% of users watched explanation videos instead of writing to the support team.
80% used this format to increase onsite time.
As the final conclusion, they found out that 85% of the questioned audience said that they would like to see more branded video in 2018.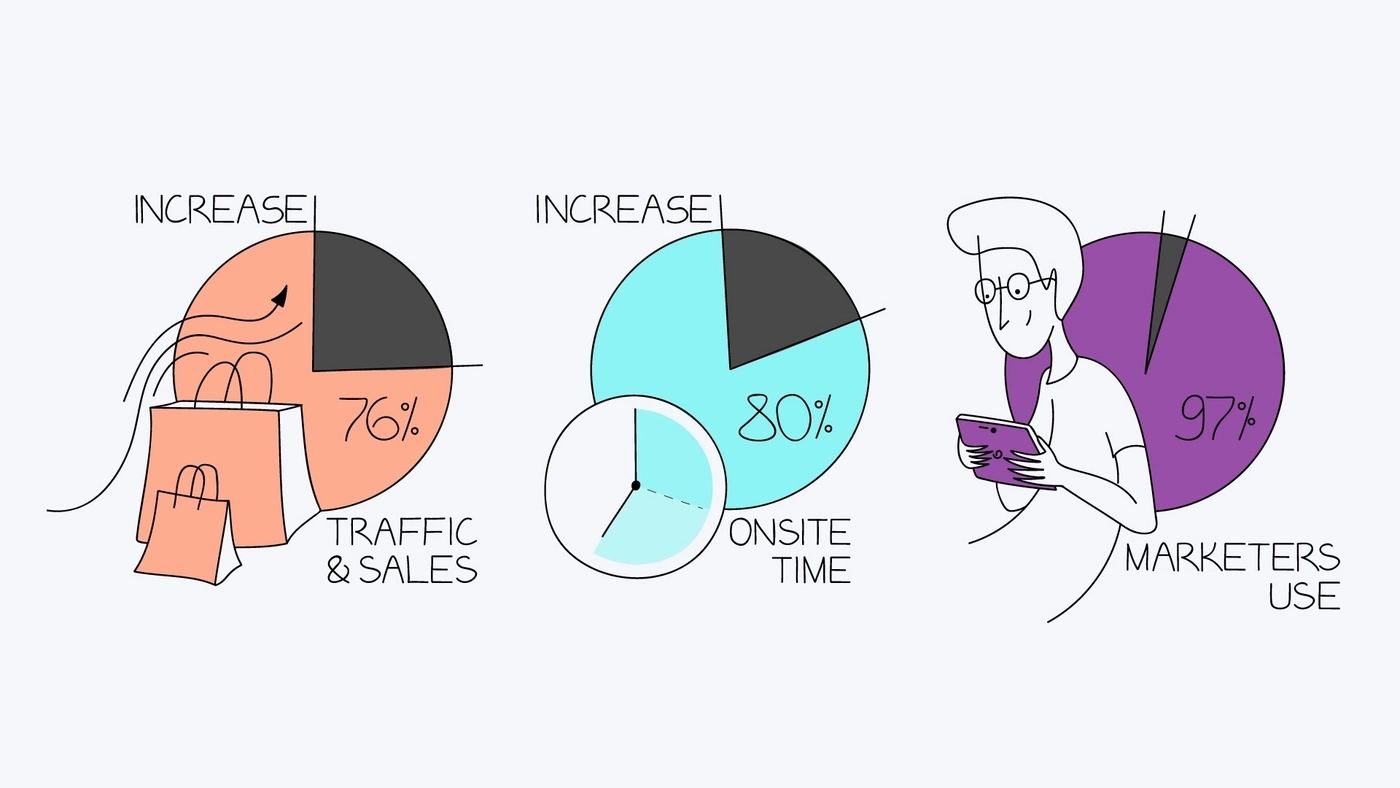 Finally, we got to the main topic of today's article…
Latest trends for the video format
1. Square mobile video

The mobile trend made 'video' to evolve and become square, as it is more comfortable for smartphone users. They don't need to rotate screens anymore, as videos look the same size from any angle. Buffer has even dedicated a separate research to this topic. It appeared that square video is an outstanding trend among mobile users compared to the already outdated landscape video. However, they recommend using both formats still, with targeting on mobile users. For example, here are pure numbers: over 92% of Facebook users access this social media via mobile. Here is their research results regarding users' engagement per video: Source: Buffer.com

2. Muted video with subtitles on social media

Digiday has shared the fact that nearly 85% of Facebook users play videos without any sounds.

Instagram users tend to mute videos as well. It could be a serious pitfall; however, this is an outstanding benefit for publishers—transcribing videos and adding attention-grabbing subtitles.

What's more, if you duplicate video text under the video itself, it will help search engines to know what your story is about.

Here is an example of how BBC uses subtitles and their logo to engage their visitors with muted video.

3. Mini-Series from Facebook Watch

Launched last August, Facebook Watch videos grab audience's attention. It is an already proven fact. Active lifestyle makes people prefer short multi-episode videos to several-hour ones; however, there are still fans of full-length format. That's why publishers still argue whether Facebook Watch will succeed.

Nevertheless, the results are positive at the moment. The platform offers original shoes from its partners such as Mashable, Tastemade, Attn, Hearst and others.

Digiday shares the experience of the "Is It Just Me?" mini-series by Tab Media. It has 129K engagements, which is x8 more than standalone videos. Joshi Herrmann, Editor-in-Chief of Tab Media, confesses that publishers don't need to switch to Instagram or Snapchat for growing their engagement rates, Facebook is as helpful.

By the way, Facebook offers show-providers budgets for their participation; for instance, the Watch initiative is willing to pay $1-2 million for weekly shows. Although these costs are based on each separate series budget, not overall project cost.

Source: Kissmetrics.com

4. 360 videos

Marketers state that 2018 is a year of 360 videos. It is the format allowing watchers to choose the angle using a VR helmet or a smartphone. What was an inspiring innovation in 2017 became the marketing reality in 2018.

Think with Google blog made a research on this topic and compared regular and 360 vids. Researchers came to the conclusion that the new format doesn't overperform old ones, however, it has its strong benefits. The CTR of 360 videos is higher, and users' engagement is boosted as well. Moreover, 360 vids drove watchers to perform 41% more social actions (likes, shares, subscriptions). It's no surprise as such type of content is designed especially for showing adventurous moments full of drive.

Here are outstanding examples of 360 videos. Watch them and think whether your business can benefit from using 360 videos.

The Times 360 video:

5. Virtual reality (VR)

VR videos slightly remind 360 videos, having a requirement of a special headset as the main difference. Large newspapers have already introduced this practice to their everyday life. For instance, The New York Times has a separate section for their VR 360 stories.

The same does USA Today, they also recommend how to watch VR films.

The Los Angeles Times went further and offers virtual tours to Mars. Such format engages users by several times better, as it offers new fascinating experience.

The only drawback of this information delivery format is high prices for VR sets, which makes 360 videos more popular among Internet users.
What else is there?
Marketingprofs are sure that live video on social channels will become more important to content strategy this year. According to their survey, 82% of users prefer watching streamers to other content. While media giants are already active users of this format, bloggers and local newspapers begin to experiment with news streaming. What are the outcomes of their tests? Read the next IO article to find it out.