When it comes to monetizing a digital media website using direct advertising but not ad networks, you can choose from different options. You are limited to just your imagination and the usability of your website, which doesn't have to be littered with banners, ad posts or announcements. First, let's connect the dots on what type of ad should be there.
Onsite Ad Types:
Text ads

This is the most typical ad on the Internet. Mostly everyone uses this type of ad. They are brief and consist of a headline, text body, and a call-to-action with the advertiser's URL.

Banners

This is another basic type of ad. The main difference between a banner ad and a text ad is that the former uses pictures to attract the attention of users. A great amount of digital media websites use this type of advertising. People prefer them due to the bright attractive appearance and creative approach.

As a website owner, you can set various places for banner ads for different prices. Ads at the top are usually more expensive than those in the footer.

Video ads

This type of web advertising made users abuzz recently. Social media, online newspapers, and magazines use it. TJ McCue, a Forbes writer, stated that by 2021, Internet video traffic will account for over 80% of all consumer online traffic.

Native ads

This type is often called 'Sponsored posts', however, marketers invent new types of it from sponsored articles to mentioning products in their own texts or including them in illustrations, videos, etc. Actually, the topic is vast, so you better visit our Native Ads article to learn more.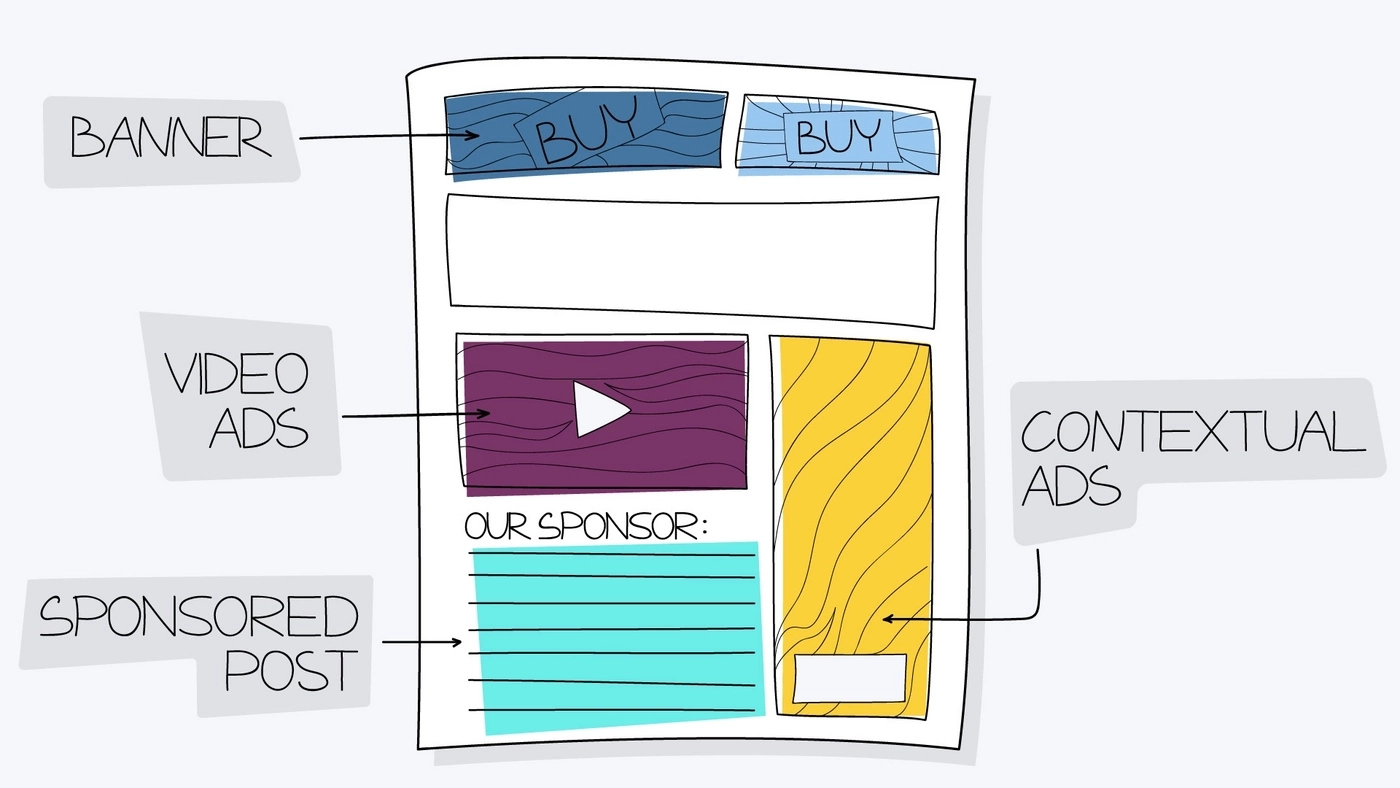 No matter the areas you have left out for advertising on your website, you should have a quick and efficient way of making potential advertisers know about them. Media Kit or advertising page is the solution to this issue.
Don't you have it yet?
It's time to create one, as blogs without media kits are losing a great deal of money they should be making.
Pricing Models for Your Media Kit
First of all, choose one of several pricing models:
CPA (Cost Per Action/Acquisition/Lead/Purchase) - a website owner is paid for a single action of a client. This pricing model is the most popular among affiliate marketers.

CPC (Cost Per Click) - each click on ads is paid for, and the price is set by the advertiser. It can vary from $0.01 to $10.

CPM (Cost Per Mille or Cost Per 1000 Impressions) – Payment is made for every one thousand unique views. For example, 5 ads with $5 CPM will earn you $250 per month if 10K unique visitors see your ads.

Flat Rate is a fixed price for displaying ads within a time period. It's one of the simplest ways of pricing, as a website owner demonstrates to the advertiser his/her website's statistics and target audience. The advertiser then pays for showing ads on the website without paying for impressions, clicks or actions. However, this option has advantages and disadvantages.

Combination of pricing models. If you examine media kits examples of far-famed newspapers, you will notice various advertising options like CPM+CPC or CPC+Flat, and so on. Advertisers can benefit from discounts while making a bulk order, and a website owner will receive more revenue from his audience.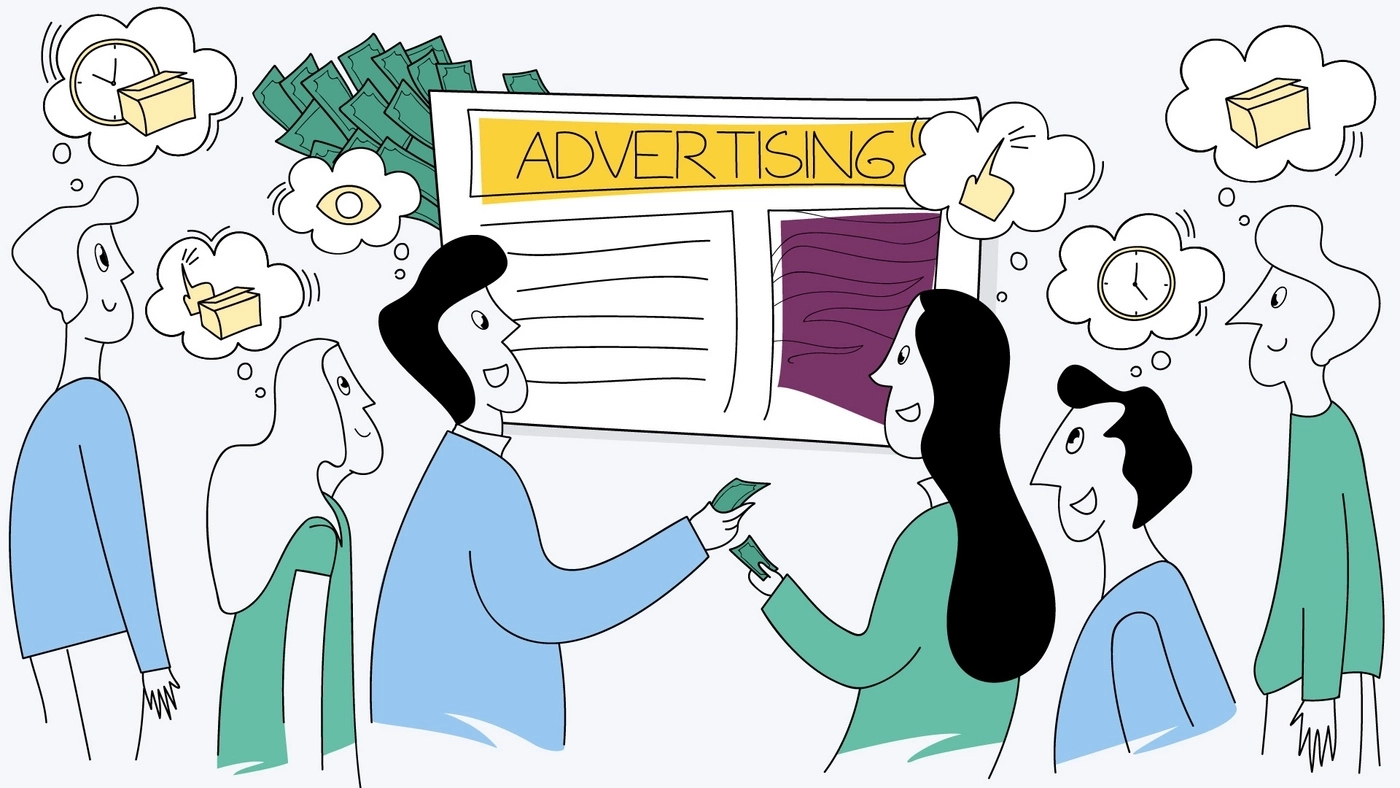 Finally, we got to our topic…
Creating a Media Kit
Ignoring an opportunity of making money with ads is the first and foremost mistake of bloggers and publishers. Creating an advertisement page doesn't mean you are turning your website into an ad platform, however, marketers and advertising specialists can be among your target audience, so why not use this to your advantage?
A media kit or an advertisement page has to show a potential advertiser everything he needs to know about your website for decision-making. Here are the most detailed media kits from reputable newspapers that can be of great example:
Their advertising page consists of everything a potential advertiser might want to know. A client can find everything there. If he doesn't get the information he needs, he can use the Contact section.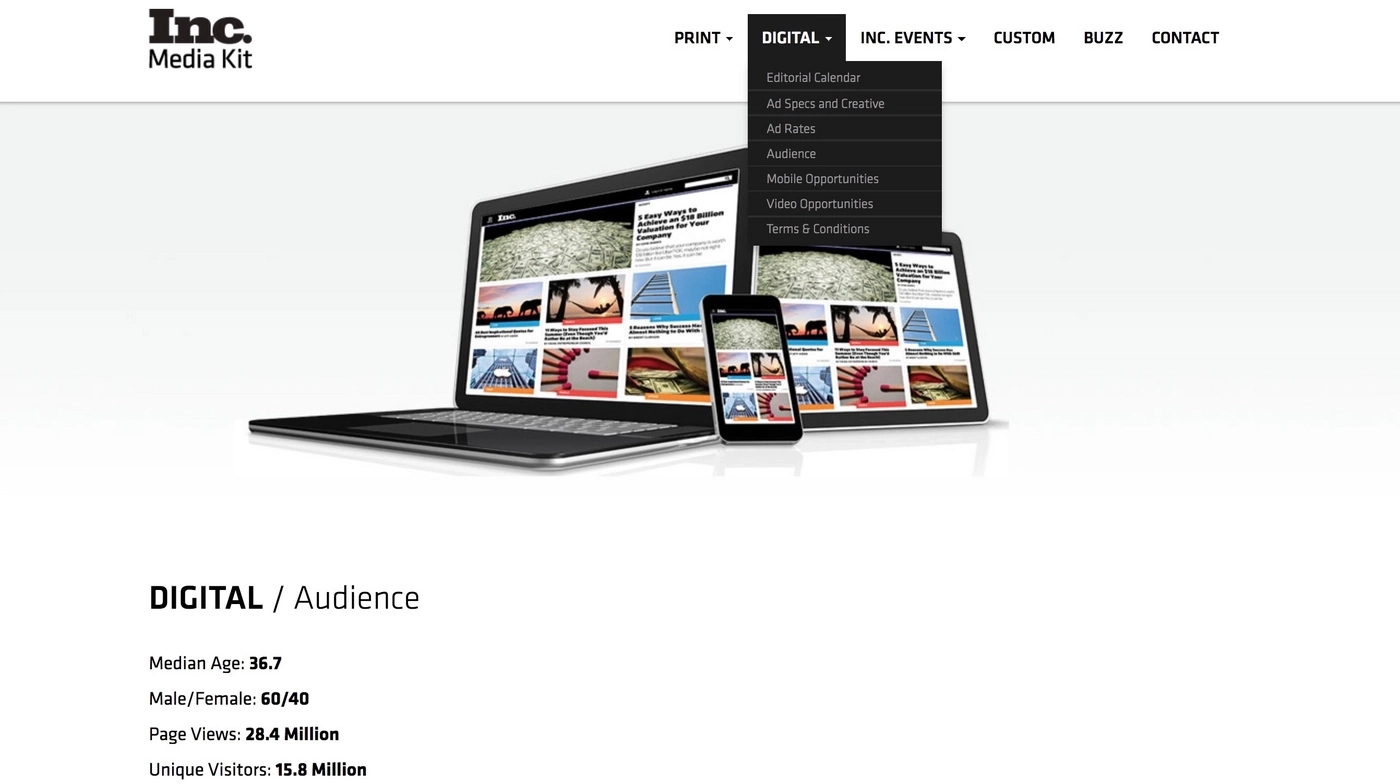 The same is for this newspaper. They describe their audience, ratings, and statistics, as well as advertising opportunities. A media kit can also be downloaded as a PDF file, which helps people to look through it even while they are offline.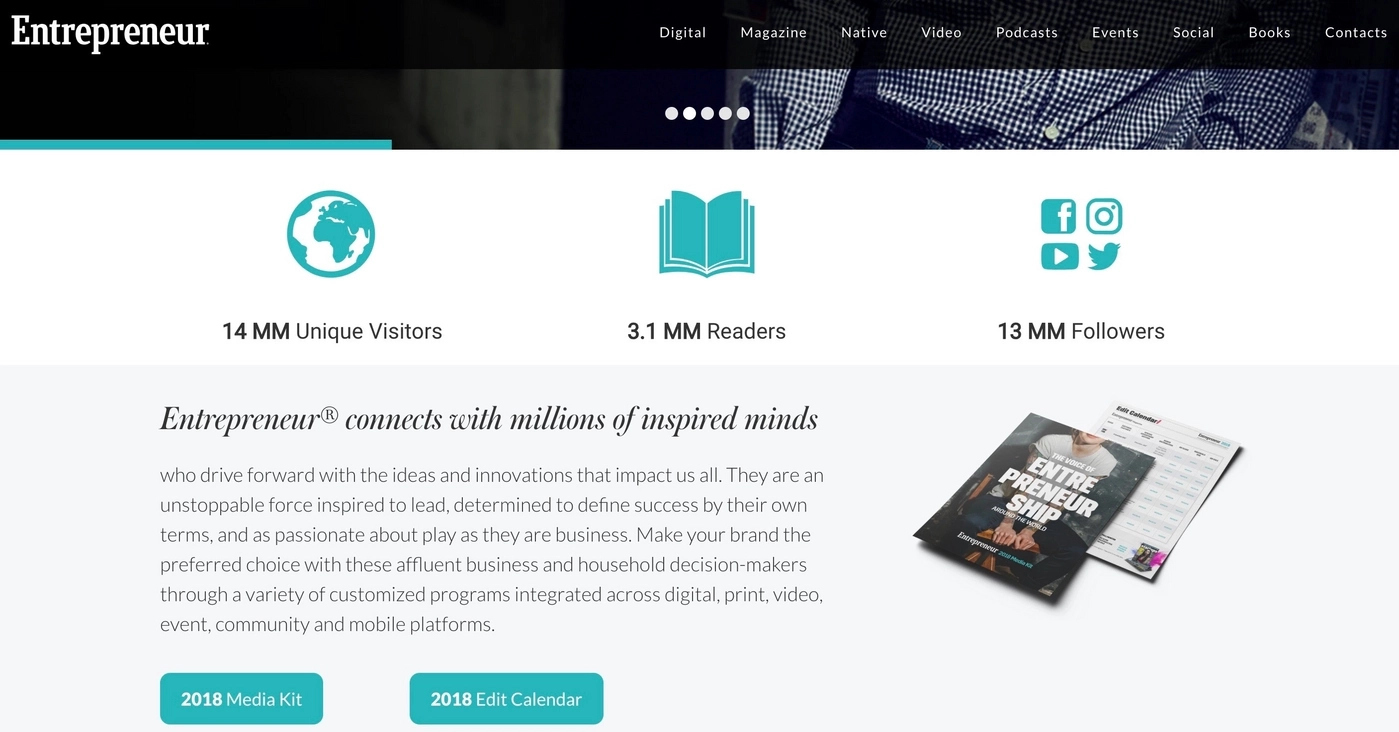 This entertaining media resource starts its advertising page with bare statistics, showing potential advertisers their vast opportunities. They also note that they create custom solution following these options with a form for inquiries.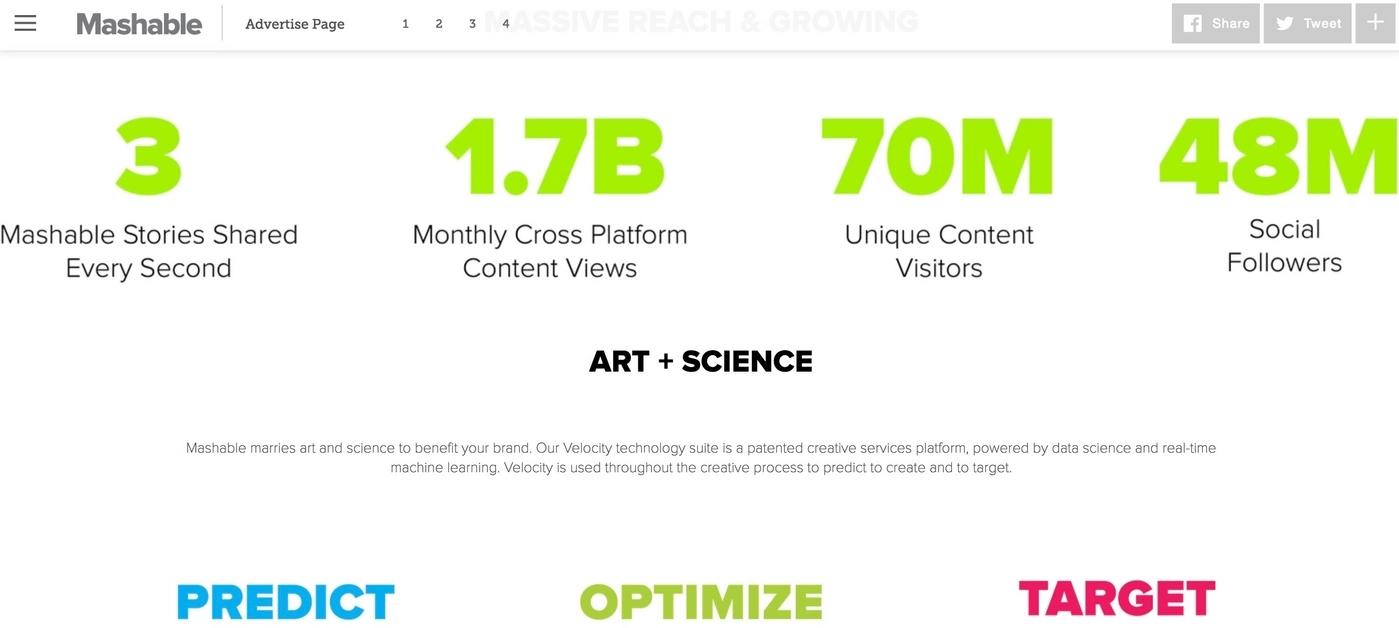 What is common with all these examples?
Simplicity. A potential client can easily navigate their media kits and find a suitable format.

Extensive information on various opportunities. Till the moment of decision-making, a client has nearly 100% data for decision-making.

Variety of ads. As was mentioned before, they all use mixed pricing models and provide potential clients with customized solutions.

Up-to-date information. Providing users with fresh information is crucial, as no one will pay attention to 2015 media kit in 2018.
Main Features of a Great Media Kit
Finally, you have decided that you need an advertisement page or a media kit. It should be like a menu for advertisers, including all the vital points we listed above. An ideal solution has to provide potential clients with data on about audience, topics, formats, blog progress, and other insights. Here is what should be included in a media kit:
An Intro. First, tell your future partners about your resource, audience, and what they stand to gain. Be brief and precise.

Mention your blog details and statistics for the last month and year. Include the following data: monthly page views and unique visitors, returning users, subscribers, reading depth, recirculation rate, community activity, and other statistics, such as domain authority, etc.

Your previous happy clients and best practices. Reputable names of real companies in this list will work like a magnet. This helps to build trustworthy B2B relationships. The richer your experience is, the more clients you will attract.

Media opportunities: printed, digital issues, social media channels. Your future customer has to know how large your audience is to forecast his own successes.

Choose pricing models and set the costs for each one. Besides CPA, CPC, CPM, Flat and mixed models, you can earn with posting (or reposting) ads on social media, writing review posts, and so on. Note all the necessary conditions of payments and for displaying ads.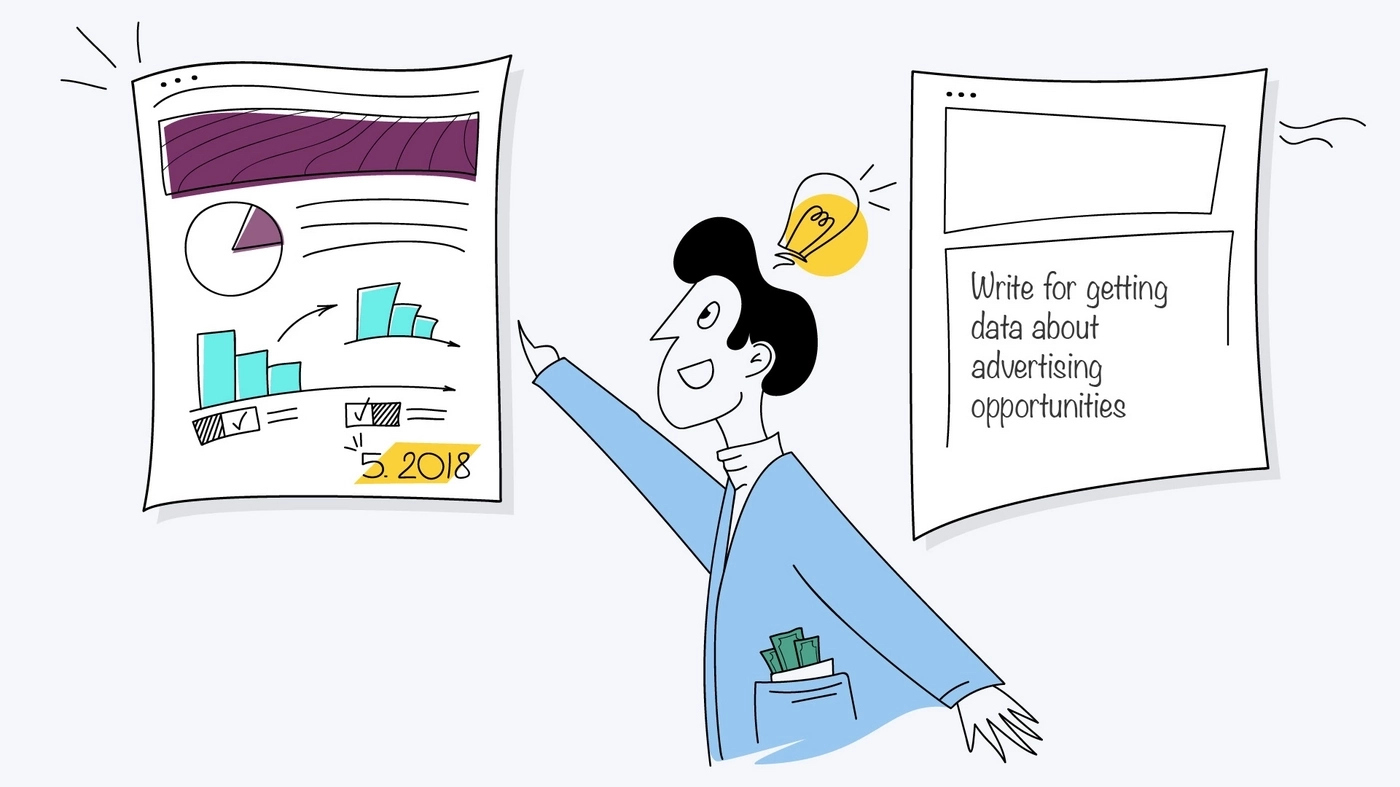 What Should Be Remembered:
Wrapping up the topic of media kits and advertisement pages, you should always remember that it is vital that they are updated at least every quarter of a year. Make it brief and shareable. So, if you want to add a file to your page, better use PDF, not MS Office documents.
Keep in mind of creative design and extensive information on all the possible advertising options.