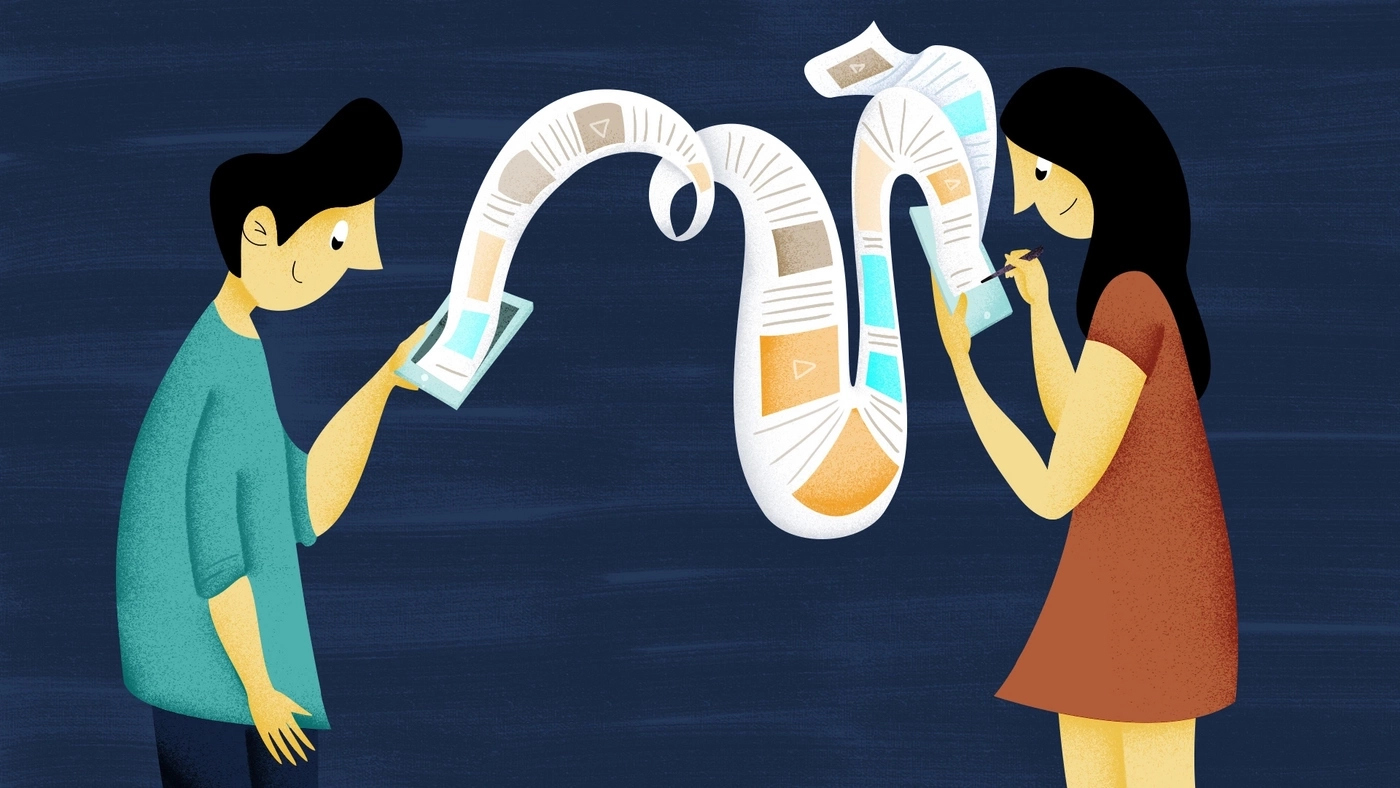 Publishers have no doubt about the importance of paying the same kind of attention to their mobile users as they do to their readers of printed and desktop digital issues. Knight Foundation found out that "since 2011, the rate of adult U.S. smartphone ownership has increased notably from 46 to 82 percent". As for the last couple of years, the individual consumption of mobile news has rapidly boomed. Research shows that 144 million users (89% of the U.S population) use mobile devices for monitoring latest news.
So, diving deeper into this topic and exploring what's the most popular in 2018 is a great idea, as well as spotting good opportunities and implementing the best practices for right now.
Here are the TOP 2018 trends for the use of mobile technology by newsrooms:
Utilizing Mobile Platforms
According to JAMLAB and their survey of 194 editors, CEOs, and digital leaders, "almost half of publishers (44%) worry about their influence on platforms. 7% don't worry or do not focus on it. It was a surprise that publishers feel more negatively towards Facebook and Snapchat than they do towards Twitter and Google".
However, publishers agree with the fact that the mobile format is a must have for their newspapers and magazines, as the audience grows every day. People look through the news via their phones everywhere and all the time, so it would be a great mistake to miss out on getting in touch with the target audience in this way.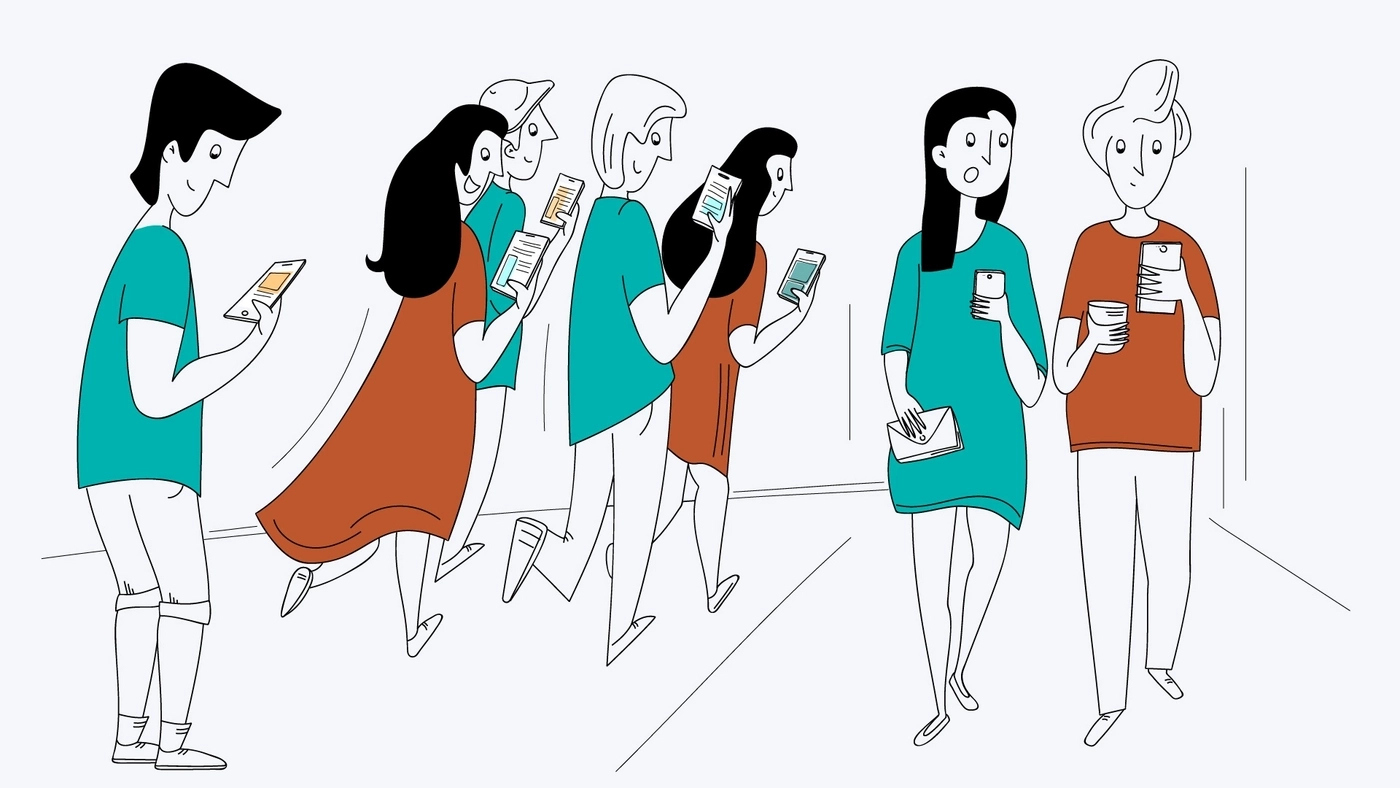 News Apps and Visual Formats
Continuing with the topic of mobile technologies for newsrooms, the BBC news app launched their 'Videos of the day' feature using the same approach. Asian tech platforms like China's Sina Weibo are getting in on the act with their beta version of "Own Stories" while Kakao in Korea has an app already.
As Paul Bradshaw mentioned in his journalism blog, the shape of news is changing to 'tap to advance' storytelling. It means switching from the ordinary 'scroll' to the more technological 'swipe'. While browsing, for instance, Medium stories, people get the information in parts and in chapters, swiping each of them. The storytelling becomes horizontal instead of the previously common vertical that newspaper readers are so used to.
If used properly, this innovation can engage more loyal readers than ever before, especially if it concerns millennials who get their information primarily from mobile devices.
Do you remember newsrooms buzzing about audio storytelling formats at the end of 2017? This is still popular, but in 2018, the visual mobile format will gain the same popularity. Use of emojis, notifications and stories have been never so popular before, people enjoy them.
Quick Overview of the 'Stories' Mobile Format
Mobile stories have become mainstream. According to Digitalnewsreport Instagram stories have overtaken Snapchat. As they say, people like the mix of text, pictures and videos. Journalists who use these tools benefit as well. 400 million people out of the whole 700 million Instagram users audience utilize the 'Stories' feature actively. It's too great a chance of being heard to ignore it. Note, these statistics relate to Instagram, Snapchat may have even more Stories fans. Facebook has also launched such a feature too.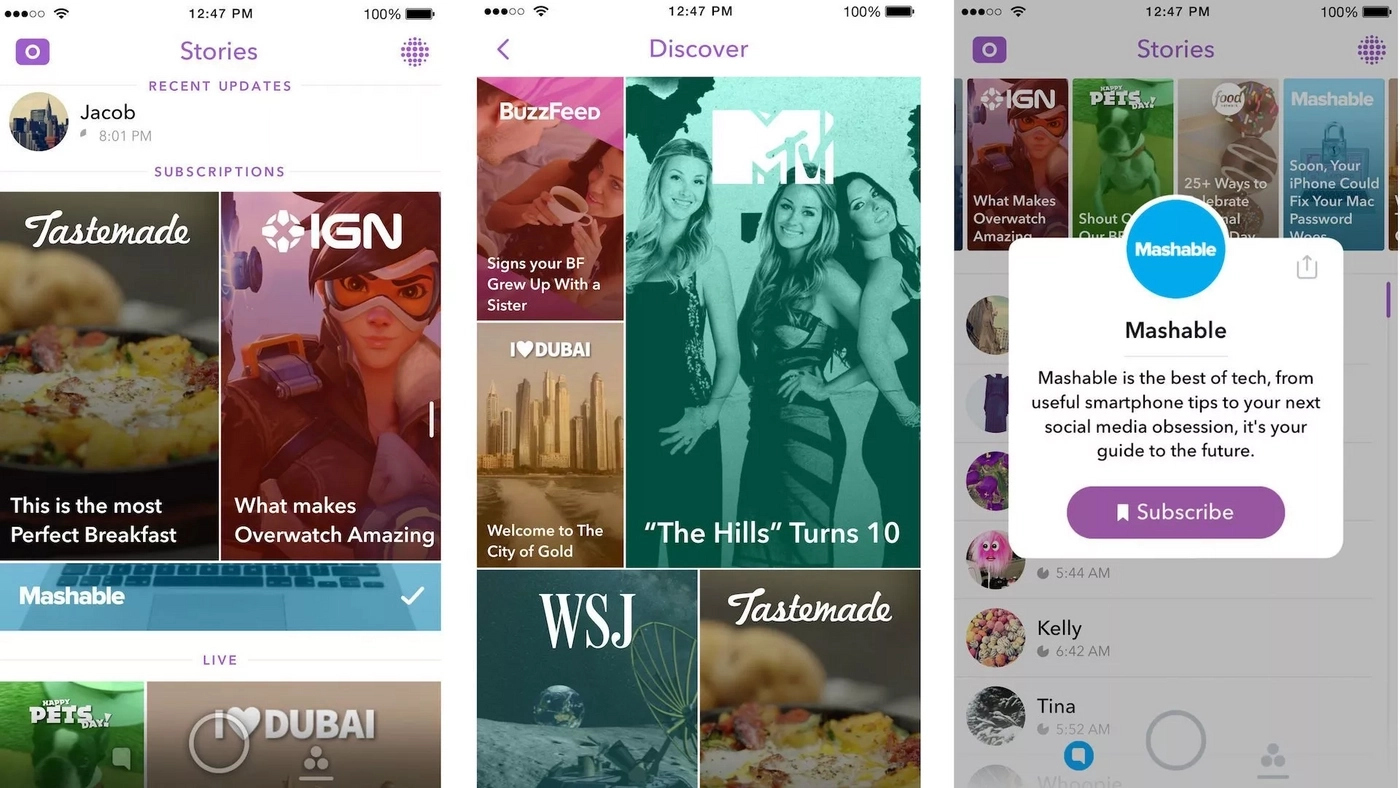 Snapchat Discover Redesigned. Source: Marketingland
The most pleasant thing about Snapchat or Instagram stories is that they are designed especially for a phone screen, they usually show fresh information and what's more, people who get news from social media usually prefer visual content to written forms. Such informational pieces help communicate with the audience 'here and now'. It's a great opportunity to textdeliver breaking news to the audience.
The only serious drawback of using mobile Stories formats is that they disappear after 24 hours and are never accessible again.
World famous newspapers like The New York Times invest heavily in the Stories information distribution channel.
As for Google's AMP stories, CNN, The Washington Post, Wired and other newspapers have experimented with them. This completely differs from what Instagram and other social media outlets offer. First, they are multi-page, also, both animation and special effects are allowed, and their lifespan is not limited to 24 hours.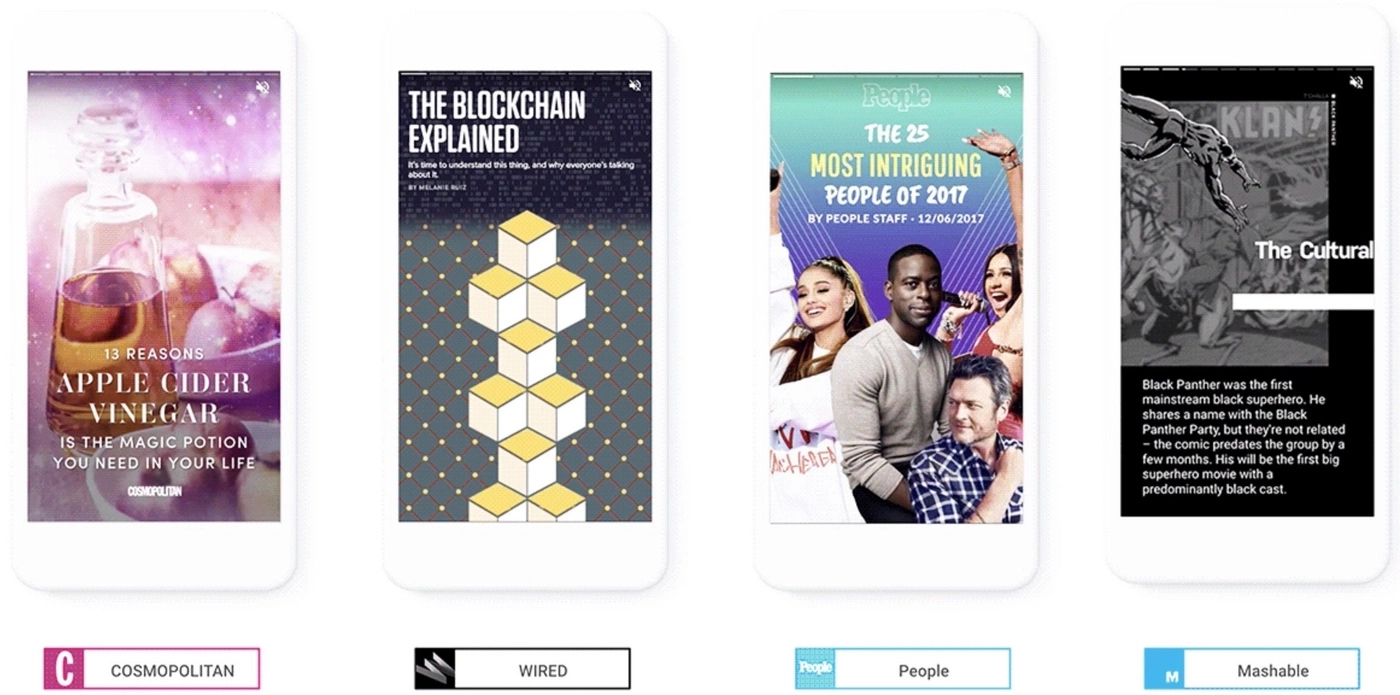 Google AMP Stories. Source: Androidpolice.com
Mobile Alerts and Notifications
As Columbia Journalism Review (CJR), a magazine for professional journalists, states, the world's biggest portals such as AP News, USA Today, CNN, CNN MoneyStream, BuzzFeed News, Fox News, and other outlets send 10 or more alerts in a single day. Do you think this is too frequent? Surprisingly, this is how mobile alerts work.
The biggest benefit of using mobile alerts or push-notifications for newsrooms is delivering messages right to their audiences' screens, even if those are locked. For some editorial teams, notifications make sense as reminders of what they do. Some newspapers (57% from the CJR research) use them for delivering breaking news only. Some media resources build trustworthy and reliable relationships with their readers this way.
When using alerts, publishers started using their creativity since push alerts are pieces of content as well. It's not just about the headlines now, it's about additional content, teasers, or round-ups of content, as CJR states.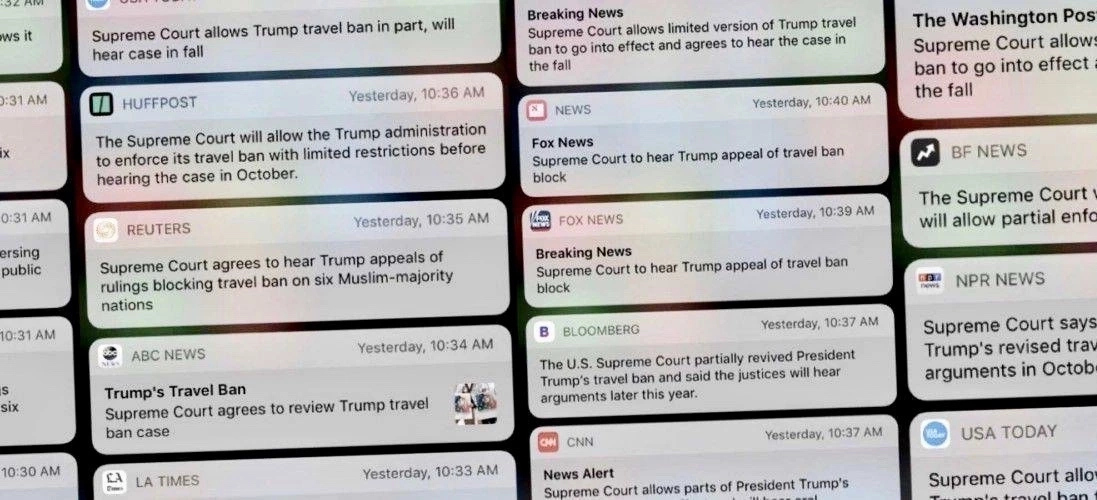 Source: CJR
Mobile Journalism
This phenomenon is the continuation of the overall mobile trend. IO will even dedicate a separate article on the actual topic, as technology gives publishers not only the opportunity of engaging new readers into their content via mobile but also creating new stories with it.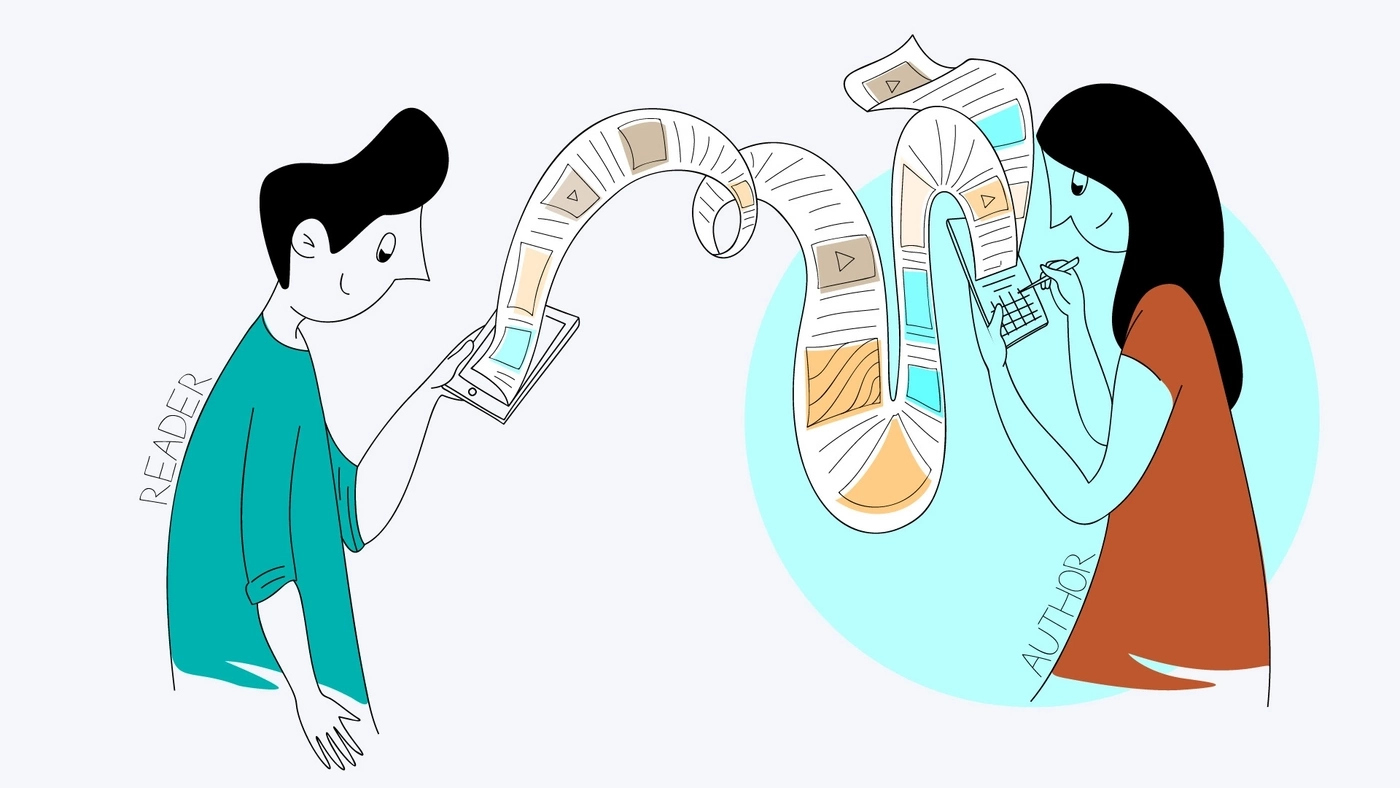 Technology matters and journalists along with publishers adapt to innovations, collecting more loyal readers. In our next articles, the IO team wants to cover other trendy topics: