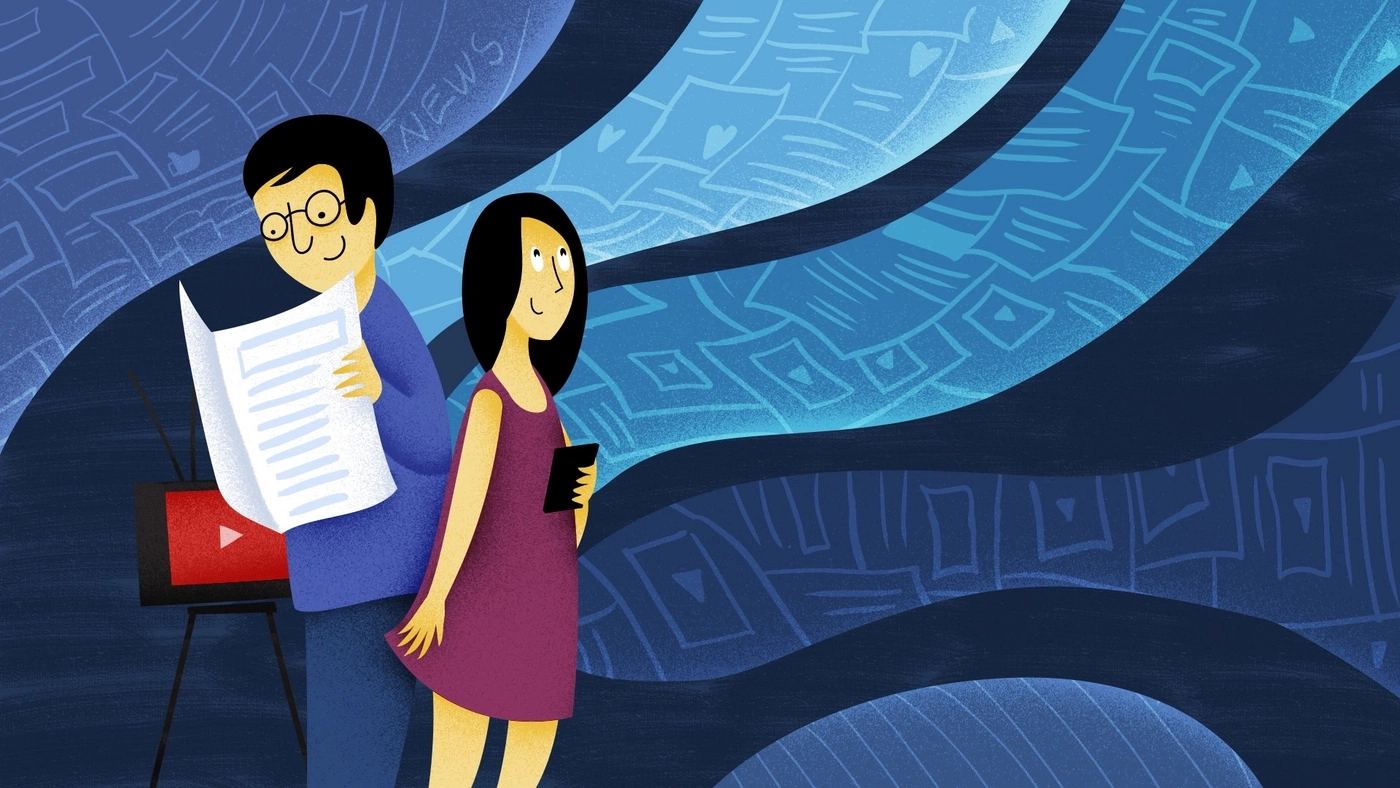 While social media is penetrating the whole news industry, publishers wonder whether they should treat them as competitors. Some readers believe they should, and others think that social media is another way of delivering information and there is nothing newsroom owners should worry about.
Nevertheless, data will speak for us, and the data-driven approach helps to identify trends the best way. Here are the details:
Where Do Americans Read News?
According to Journalism portal, two-thirds of readers utilized social media to get fresh news in 2017. They questioned nearly 5,000 adults, the U.S. citizens, and members of the Pew Research Center. They also noticed that the use of the digital media, social media in particular, has increased among older, non-white, and less educated country residents.
Researchers learned that the distribution of audiences that get news from social media depends on specific websites. For example, a minor part of Instagram or YouTube visitors search for news there. Things go the opposite way for Facebook and Twitter, as the majority of users are eager to read something fresh there.
See the infographics with the numbers below. These numbers are vital because if we compare the overall Twitter audience with the YouTube audience, we will notice that the last one is significantly larger. The outcome is that 18% of YouTube visitors get news from the website, while only 11% of Americans use Twitter for that.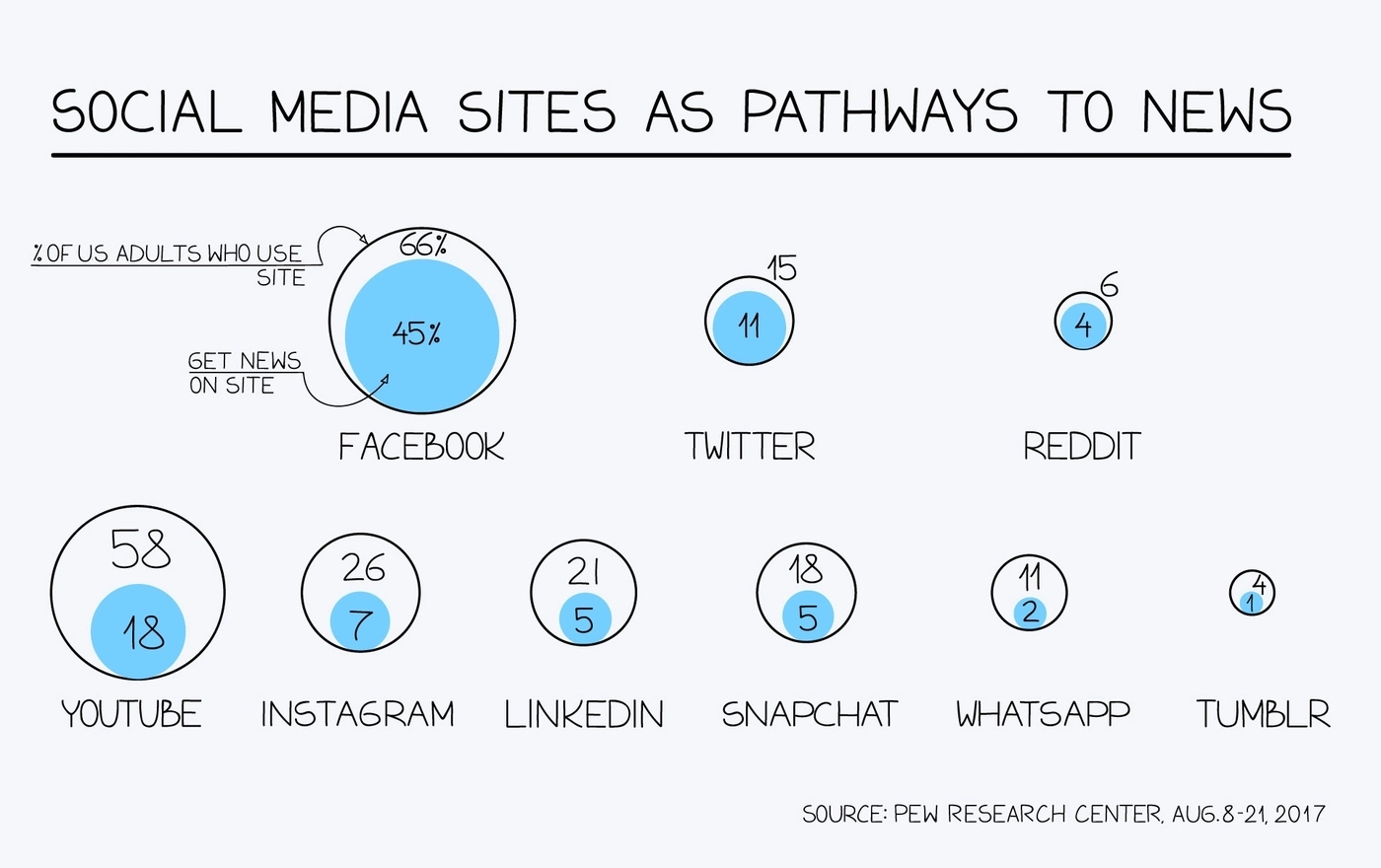 Pew Research Center states that the number of people who read news on several social media platforms grows every year. For instance, while only 15% of all American digital news readers used to get news from two or more platforms in 2013, 18% did that in 2016. Their number increased to 26% in 2017, and the growth is likely to be up in 2018.
One more fascinating fact they found is that the most common way for a random user to get news is through social media and direct visits to websites. 36% of Americans prefer visiting their favorite site directly, while 35% get digital media resources from social media platforms. The bad news is that those visitors are not so much motivated to perform onsite actions compared to readers who enter websites following links from emails or texts written by someone they know personally.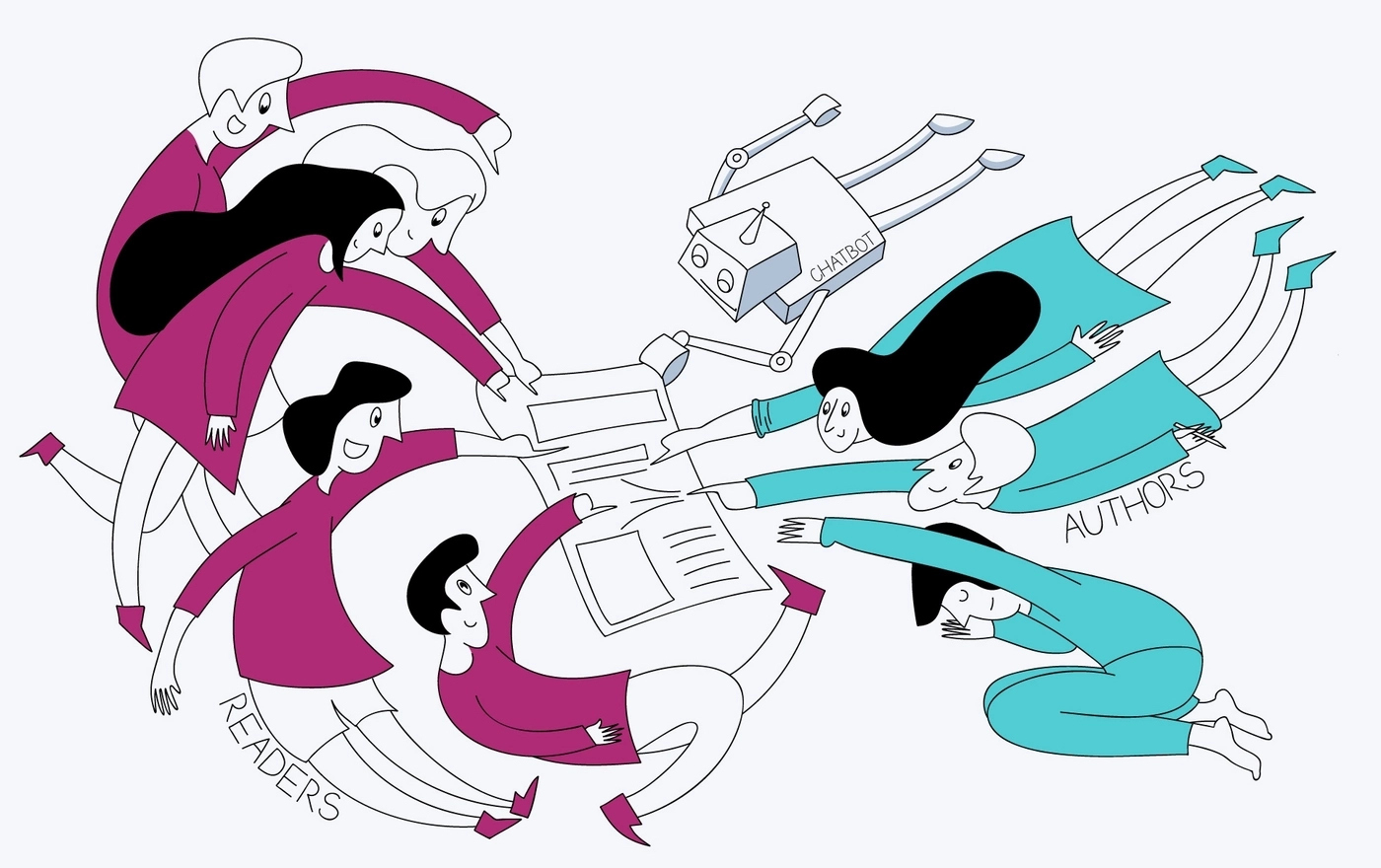 Reuters Research of Global Audiences
Reuters Institute explored the topic by the end of 2017 and used six years' data based on the answers from U.S., U.K., France, Germany, and Denmark citizens.
The statistics represent how audiences of different ages get news. Expectedly, young people are used to reading news on the Internet, while older people prefer traditional media channels like TV or printed newspapers.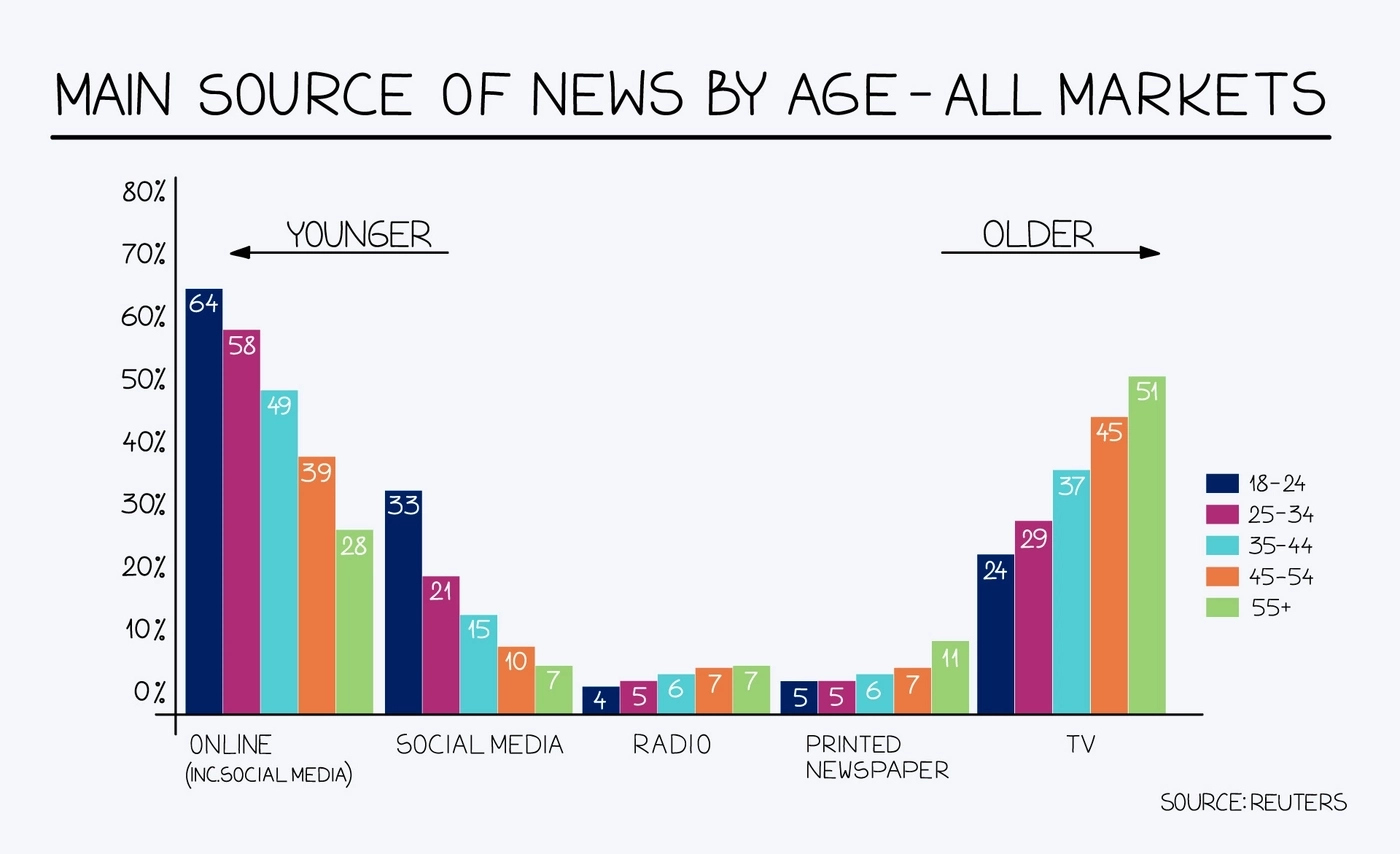 Reuters monitored the same things as Pew Research Center did and conducted a study regarding specific social media platforms. Nevertheless, their stats are interesting, as they represent not only the U.S. market but the whole global audience: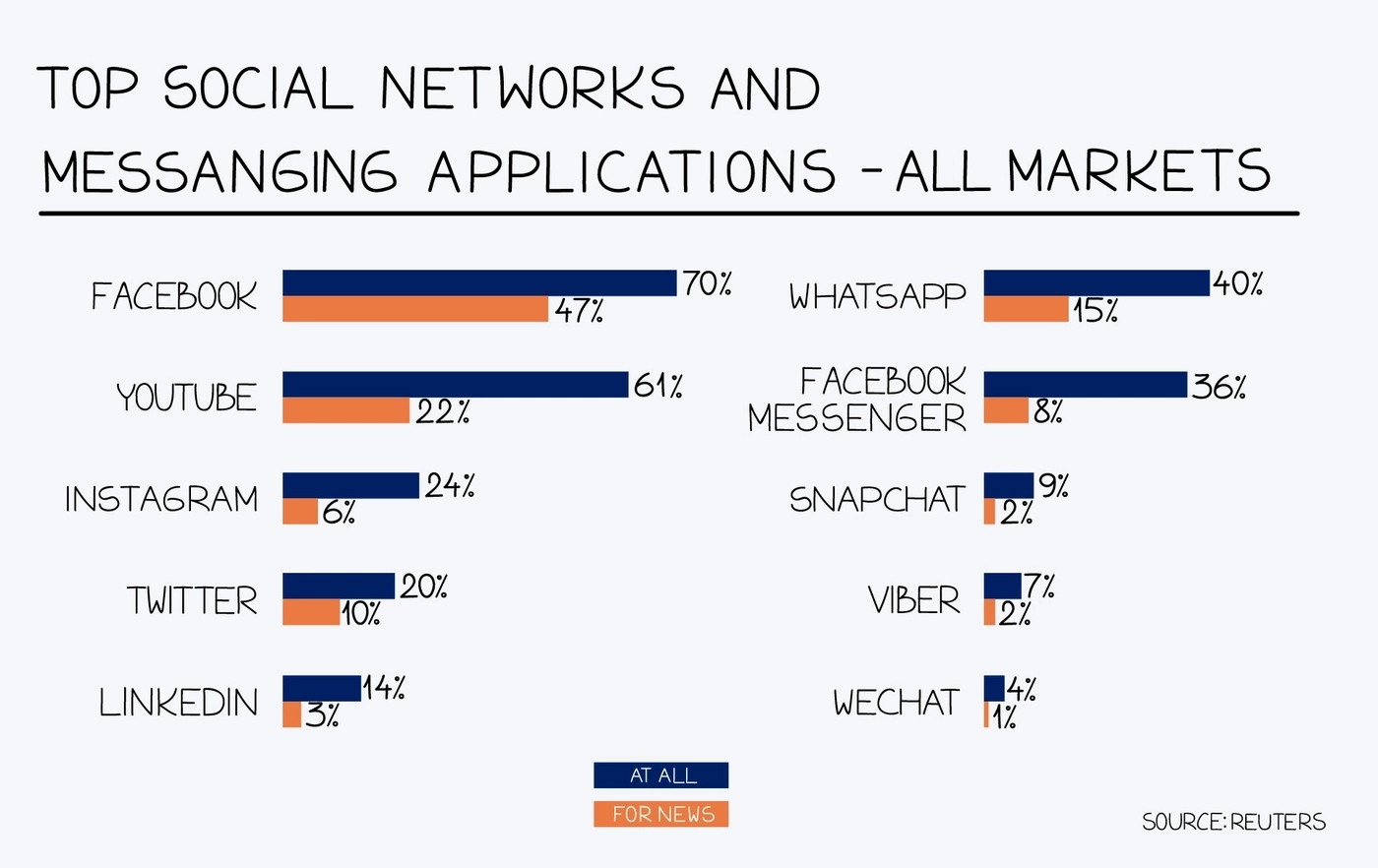 Comparing global stats to the U.S. stats, it appears that the situation is nearly the same.
Outcomes for Publishers
The growth of social media as a channel for getting news doesn't mean that social media is going to kill traditional news. Newsrooms can use this fact to benefit and attract a younger audience.
The Reuters Institute's statistics show that the number of social media news readers decreased a bit in several countries within the 2016-2017 period. At the same time, it continues to increase in the U.S. and U.K.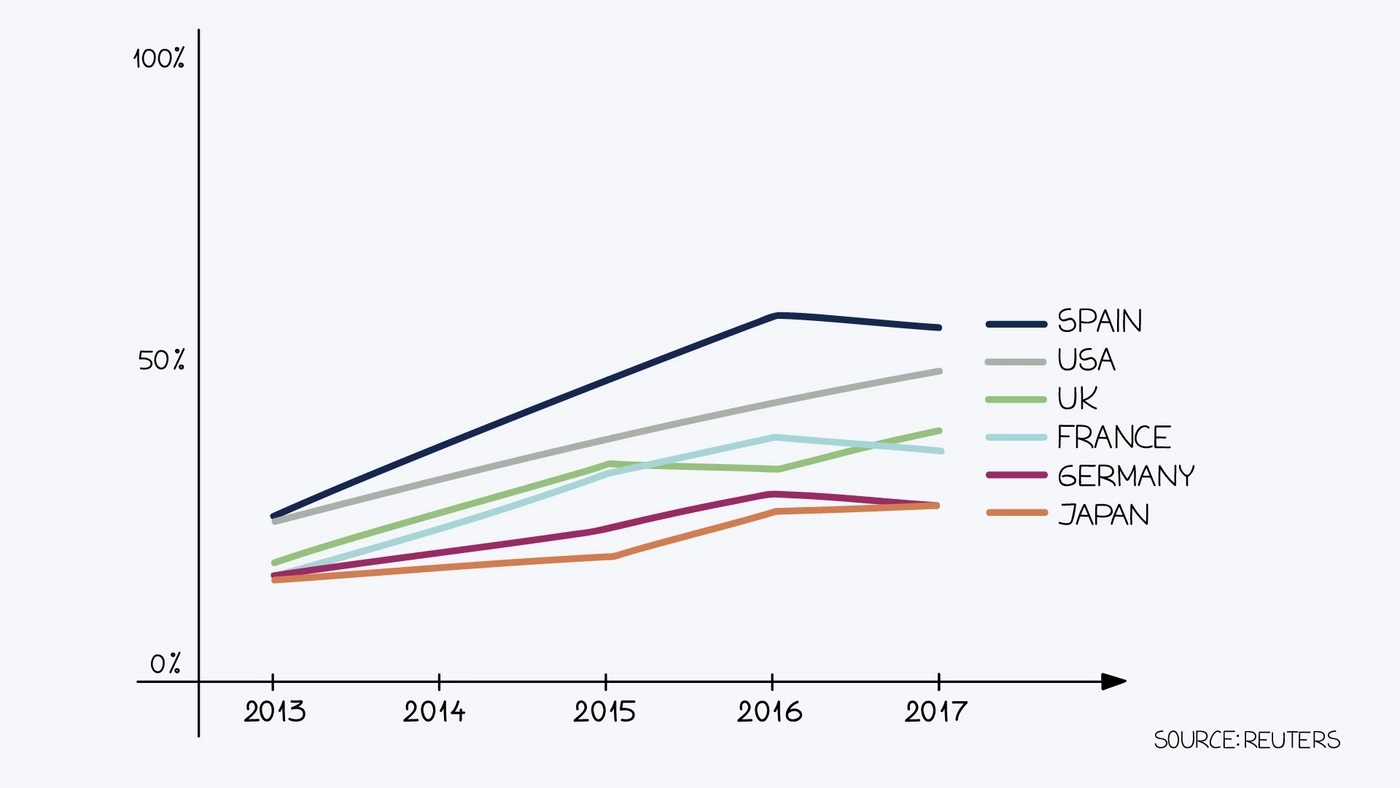 So, learn who your perfect audience is and target them on social media, if they use them a lot. Anyway, it is not the only point that makes these resources so valuable. Publishers' presence on social media is crucial, and here are the reasons:
Human Connection

Receiving feedback and talking to the audience is what newsrooms should note in social media storytelling. Always connecting to your readers is the main factor for growing engagement that is vital for every newspaper and magazine. What's more, you will get the opinion of the public and adapt to people's needs.

Keep in Touch with Every Reader

Chatbots can connect with visitors, as they offer news subscription and distribution, as well as answer readers' questions. It's a perfect way the newsroom can stay online and keep customers satisfied with their service.

Handy Access

This point is fair to both publishers and their readers. There are tons of automatic posting tools that generate social posts from your site content. Nevertheless, publishing on social media remains under control, and whether you use third-party services or not, you'll always keep in touch with your public pages.

Social Media is Full of Influencers

Once an influencer - a person with a tremendous amount of subscribers - reposts an article, a newsroom can experience a great traffic boost. So, your main goal is to target such people with lots of relevant friends and urge them to share posts and articles. Create viral content, entertain, and target readers' interests.

For example, this tweet gathered nearly 9,000 likes thanks to Elon Musk, while other tweets are usually liked by around 150 to 200 readers.

New Formats of Broadcasting

Facebook, Instagram, Snapchat, and other social media platforms have their own benefits. We have already described some of them in our 'Newsrooms and Mobile Storytelling' series. Each platform has its audience, and you can create targeted content for everyone while engaging more people. For instance, use Facebook for streaming breaking news and Instagram for sharing graphic stories.

Source: DailyMail